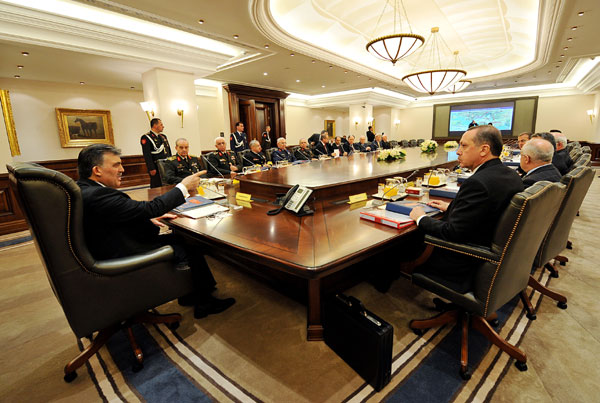 By Manolis Kostidis – Ankara
Turkey has made changes to its Red Book as the neighboring country alters its strategy in order to be able to deal with 2.5 wars, including one with Greece.
The Red Book is a guide for the Turkish government and the Armed Forces and was last updated before 2010.
Three years ago the Erdogan administration had removed potential enemies such as Syria from the list of threats and cooperation agreements were signed with Damascus. However, according to newspaper Vatan, Ankara has had to change its strategy following the downing of a Turkish fighter plane by Syrian air defense and heavy fighting breaking out in Syria.
Syria ranked first on a list of potential enemy threats. Greece is considered enemy number two and the PKK is thought of as a half enemy. The Turkish newspaper reports Turkey applies the 2,5 wars dogma, meaning it is prepared to tackle 2.5 wars simultaneously at any given time.
Turkey downgraded Greece's position in its list of possible external threats.
In 2010, the National Security Council had approved changes to the Red Book, a Security Policy Document many call the "secret constitution" where Turkey's external and internal threats are mentioned.
As far as Greece is concerned, it is still perceived as a threat but it is now a lower risk compared to previous accounts of external threats. There has been no change, however, to the "casus belli" threat regarding the unilateral extension of the breadth of territorial sea to 12 miles in the Aegean.
Until recently, PKK action was considered a serious problem for Turkey and was the number one domestic threat. However, the effort to solve the Kurdish issue seems to have brought Syria to the top of the external threats list.