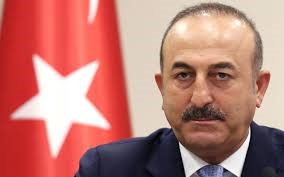 The clock starts ticking for the first drilling in order to search for oil or gas fields in the sea area around Cyprus on the Turkish side.
As the country's Foreign Minister Mevlüt Çavuşoğlu made known, and according to the Anadolu news agency, it is a matter of a few days until Ankara, with the help of the two most suitable vessels in its possession, proceeds with exploratory drilling around Cyprus.
"In the next few days we will start drilling with two vessels around Cyprus," Mevlüt Çavuşoğlu said in a speech at a business conference in the province of Aydin.
Commenting in the meantime on this statement by the head of Turkish diplomacy, the Reuters news agency points out that such a development is almost certain to trigger tensions in the Eastern Mediterranean, both with the Republic of Cyprus and with Greece.
"Let those who come to the area from afar and their companies see that nothing can be done in this area without us. Nothing can be done in the Mediterranean without Turkey and we will not allow it," said the Turkish Foreign Minister.
It is recalled that Turkey sent on 31 October 2018 the Fatih drillship in the sea area around Antalya./IBNA