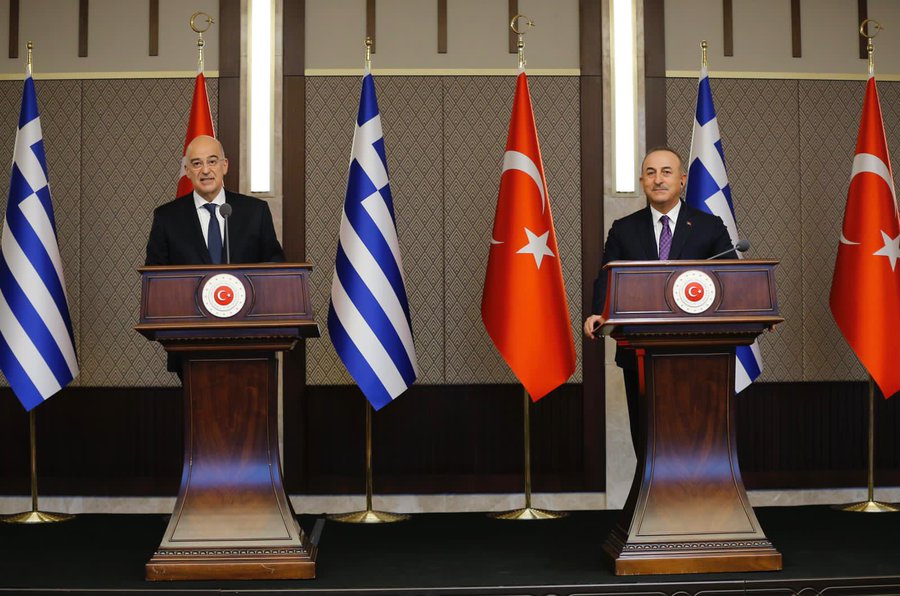 An otherwise positive visit by Greek Foreign Minister Nikos Dendias to Ankara, as was assessed by both sides, ended in a row in front of the cameras during the joint press conference of the Foreign Ministers of Turkey and Greece.
There was no indication that the situation would escape the joint statements between the two homologues, as the prevailing climate seemed to be quite positive. Nikos Dendias had a meeting with Recep Tayyip Erdogan, where the Turkish President expressed his desire to meet with Greek Prime Minister Kyriakos Mitsotakis.
The climate deteriorated when Turkish Foreign Minister Mevlut Cavusoglu raised the issue of the Turkish minority in Thrace.
"We have minorities in Greece and Turkey; we talked about the Turks in Thrace. Since the day we came to power, we have done a lot for the minorities in Turkey and many positive steps", said the Turkish Foreign Minister.
Nikos Dendias, commenting on the allegations of his Turkish counterpart, reiterated that the minority is Muslim.
"There is a Muslim minority in Greece. This is recognized by the Treaty of Lausanne. And Lausanne, if I remember correctly, was also signed by Turkey. This is the Treaty. Whether Turkey likes it or not, Lausanne is valid and will remain valid", said the Greek Foreign Minister.
The next point of contention between the two sides was immigration, the demilitarization of the islands and the challenges in the eastern Mediterranean and the Aegean, with Mevlut Cavusoglu not accepting that there are violations of Greek sovereign rights.
"I did not make any provocative statements against Greece. But my counterpart has made provocative statements, which we cannot accept, like what you say that the Turkish Republic is violating issues in the Aegean", said the Turkish Foreign Minister.
Nikos Dendias, taking the floor again, stressed that "Greece does not accept lessons from Turkey" on human rights and the refugee issue, recalling what happened in Evros. At the same time, he explained why the islands are not demilitarized.
"Why is there an army on the islands? It exists because they are threatened from somewhere. The army costs money. Is there anyone claiming at the moment that there is no military threat and amphibious force opposite the islands? The 6 to 10 miles by air and sea, if I remember correctly, start in 1930. Turkey first protested in 1975. After 50 years, after half a century", Nikos Dendias pointed out.
Somewhere at that point ended the live confrontation of the two Ministers who then attended an "iftar" dinner, without it being known until now whether the spirits calmed down during the dinner.
Regarding Mevlut Çavuşoğlu's meeting with his Greek counterpart on the official website of the Turkish Foreign Ministry, it is stated that "Çavuşoğlu stressed that they discussed outstanding issues, the problems of our minority, the fight against terrorism, immigration and regional issues; that they agreed to continue the dialogue with their Greek counterpart and that we expect a more sincere and constructive attitude from Greece"./ibna