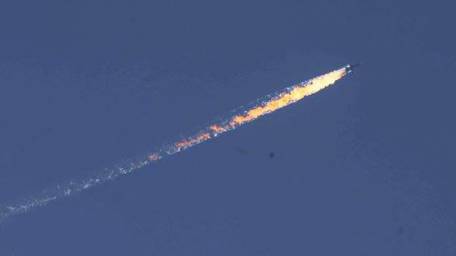 Ankara, November 24, 2015/Independent Balkan News Agency
All eyes turned to Moscow
By Manolis Kostidis
The Turkish General Staff of the Armed Forces announced that a fighter jet of a foreign power violated the Turkish airspace and stressed that "within five minutes they made 10 warnings and since there was no response then two turkish fighter jets at 9:24 shot down the aircraft".
In the statement it says that the aircraft was unidentified, while the presidency of Turkey had reported that the fighter jet was russian.
Update
Turkish fighter jets shot down a Russian fighter aircraft SU-24 type which according to the Turkish air force violated the airspace of the country. The aircraft fell within Syria and the pilot managed to escape by parachute.
Everyone in Ankara is holding their breath trying to guess what the reaction of Moscow will be.
Already the Chief of the Turkish General Staff Hulusi Akar has briefed Ahmet Davutoglu on the developments.
The office of President Recep Tayyip Erdogan has officially announced that Turkey shot down the fighter SU-24, "since it did not respond to the warnings of the Turkish fighter jets".
The Russian Ministry of Defence announced that none of its fighter jets violated the turkish airspace.
A few weeks ago Ankara had announced that Russian fighter had violated the airspace of Turkey, near the border with Syria, with the Turkish government warning that in similar cases in the future it would apply the "rules of engagement".
The Russian Foreign Minister Sergei Lavrov was scheduled to arrive in Ankara on Wednesday for an official visit, but the Russian foreign ministry announced that the trip is cancelled.