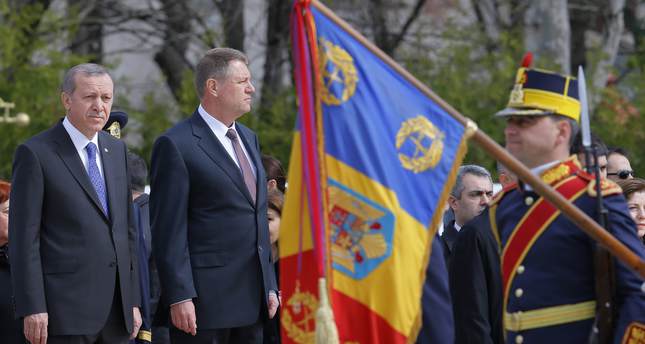 Bucharest, April 1, 2015/ Independent Balkan News Agency
By Daniel Store
Romania and Turkey have to develop economic ties and reach a trade volume of 10 billion USD over the next years, Romanian President Klaus Iohannis and visiting Turkish counterpart Recep Tayyip Erdogan agreed today during a shortened visit of the leader in Ankara due to ongoing tensions in Turkey.
The cooperation in the economic and commercial fields is "an ace in the sleeve" for the two countries, Klaus Iohannis underlined in a joint press conference with Erdogan. "Turkey is Romania's largest trade partner outside the EU and the 5th globally. We have to fructify the potential of this partnership. The jointly set target for trade ties – 10 billion USD – can be reached and exceeded in the years to come", President Iohannis said.
In his turn, Erdogan pointed out "Romania is in a full process of development". He reiterated the target set by the two countries to reach and then go beyond the 10 billion USD. "Turkish investors have been in Romania for 20 years and have implemented investments of 10 billion USD. We want our businessmen enter third markets and become more powerful", he also stressed. The trade volume currently stands at 6.3 billion USD.
The two leaders also touched upon security development in the region. "Consolidating the collective defense within NATO is a joint objective of Romania and Turkey. Turkey's participation in the NATO command centers that will be opened in Romania would be of a distinct importance for our country", the Romanian President said.
In February, NATO decided to open six new command centers in the Baltic countries, Poland, Romania and Bulgaria and raised the total number of allied troops to be deployed on its Eastern flanks to 30,000, of which 5,000 will form a fast reaction force, capable to be deployed and respond to an immediate threat in two days at the most.
Great Britain, France, Germany, Italy, Poland and Spain will take turns in commanding the spearhead force, NATO secretary-general Jens Stoltenberg said.
Erdogan said Turkey was ready to support the command center in Romania. "We will give all the necessary support after talks at the Ministry of Foreign Affairs and the Defense Ministry. Our point of view is positive and we will convey our answer as soon as possible", the Turkish President explained.
He also took the opportunity to remind the Romanian officials that the EU visas required for Turkish citizens hinders tourism in Romania from further developing. "425,000 Romanian tourists visited Turkey last year (…) if the visas are dropped I am sure the number of Turkish people visiting Romania will grow. Visas prevent the development on a tourism level and unfortunately, Turkish citizens cannot come to Romania", Erdogan also said. He cut short his trip due to the recent terror attacks in Istanbul which cost the life of a Turkish prosecutor.