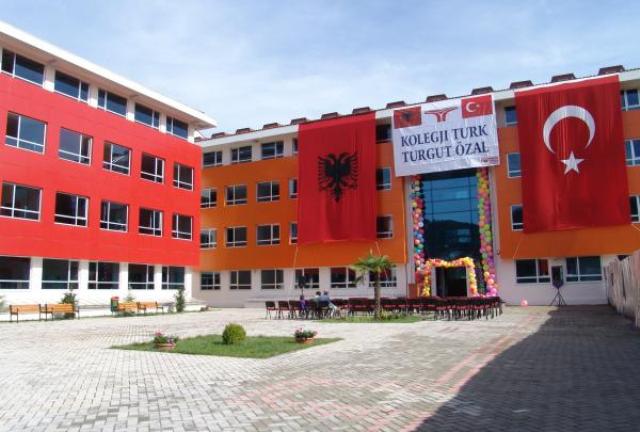 The Albanian government starts the application of the decision to remove Turkish symbols from schools suspected of being funded by Fetullah Gulen foundations
Tirana, 3 November 2016/Independent Balkan News Agency
The Albanian government has received from Turkish authorities an official request for the national flag and other Turkish national symbols to be removed from Turkish schools in Albania.
This request comes at a time when these schools are suspected of being funded by the foundations owned by Fetullah Gulen, considered as a terrorist and mastermind of the coup d'etat on the 15 July in Turkey.
The Turkish embassy to Tirana has addressed this request to the Albanian Foreign Ministry.
The request has been sent to the Albanian Ministry of Education and Sport and this ministry has distributed it in the form of an order to all non-public institutions in Albania.
The letter signed by the General Secretary of the Ministry of Education and Sport, Plarent Ndreca says:
"The ministry of Education and Sport has received letter no. 11395, dating on 29.09.2016 of the Ministry of Foreign Affairs, in relation to the request of the Turkish embassy in Tirana to stop the use of "Turkish" denominations and national symbols of the Republic of Turkey, including the Turkish flag in non public educational institutions. Based on article 34 of law 80/2015 'On higher education and scientific research in the Republic of Albania', educational institutions have an official name and insignia, which are determined upon the opening of the institution. As per the above, we demand for this provision to be respected".
Once this order came out, several educational institutions have removed the "Turkish" denomination and have avoided the public use of the Turkish national symbols and flag.
In Albania, the use of the denomination of different states, including the national symbols of those countries is widespread. Many banks, schools and other institutions use terms such as "American hospital", "Italian hospital", "German hospital", etc, or schools such as "Turkish college", American banks, etc. In some cases, they have no connection whatsoever with the states that they promote.
On the main photo: Images from "Turgut Ozal" College in Albania
Other photos, facsimiles of the official note