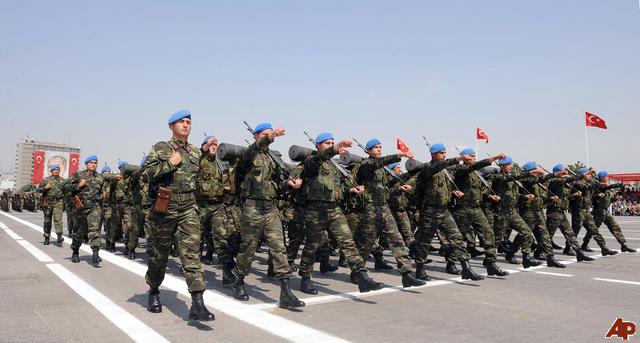 By Manolis Kostidis
Solving the Kurdish and the possibility of the departure of the rebels of PKK seems to change the structure of the Turkish Armed Forces, and the Turkish government is preparing to reduce its military service. The Minister Recep Tayyip Erdogan in a speech to members of the Justice and Development Party said "reaching at the end of terrorism the need for soldiers will be reduced. There is no need to bring legal acquisition for the military service as we had done in the past but can reduce the military service''. As a result, he set the tone of the DoD plans for an impressive reduction of the military service.
According to the Turkish press, Erdogan's government plans to reduce the military service for the graduates in 4 months of the currently 6 months and in 10 months of the currently 15 months for the other soldiers who are under the regime of the obligatory military service.
The reduction of the military service in Turkey is more likely to start implemented by the end of 2013.
But while there are objectives for the reduction of the volume of the Turkish army, the Turks are setting big goals for the development of the military industry.
The general secretary of the Turkish Defense Industry Murad Bayar claims that in our days the annual turnover of the Turkish military industries has reached at 4.8 billion dollars. "For 2023, however, we have set as target to reach the exports to 25 billion dollars and if you add to them the internal market we can get to a domain with a turnover of 40 billion dollars," he says in an interview to the business daily Dünya
"In a short period commences mass production of the main battle tank Altay, the unmanned aircraft ANKA and will "run" the program of the National Ship Milgem which will result in the rapid increase of the turnover of these industries" said Bayar.
He also revealed that in a few months the Turkish Aerospace Industries TAI will be converted in equity and its shares will be traded in the Istanbul Stock Exchange.