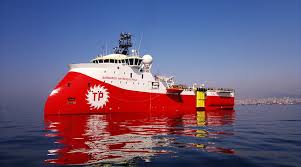 By Spiros Sideris – Athens
The leader of the Turkish Navy Staff Admiral Bülent Bostancıoğlu said: "The Prime Minister's Office handed to the general staff rules of engagement and the general staff passed them to the navy. If necessary, we will operate under the rules of engagement".
The answer was given by the Turkish admiral when asked what rules of engagement will apply the turkish warships if they come upon greek or israeli warships in eastern Mediterranean.
The Turkish admiral stressed that the turkish navy protects the rights and interests of the Turkish nation, with 158 warships, 50 air assets, an amphibious brigade of marines, forces of submarine destroyers and 50,000 skilled staff.
Asked about the tension in Cyprus and the investigations of seismic research vessel Barbaros, he said that the turkish navy protects and supports closely the research vessel.
At the same time, it monitor the movements of the drilling machine, leased by Cyprus.
Admiral Bülent Bostancıoğlu attended the naval exercise "Blue Whale" that takes place in the eastern Mediterranean, on the corvette Buyukada, on which he landed on a helicopter.
The last 24-hours after the tripartite summit (Greece, Egypt, Cyprus) in Cairo, where it was decided the delimitation of the EEZ of the three countries, Ankara raises the tension, calling for a global freezing of research in the EEZ.
It asks Cyprus to suspend all investigations to identify and extract hydrocarbons in exchange for the withdrawal of Barbaros from the Cypriot EEZ.
This new stance by Turkey is rejected, according to diplomatic sources in Nicosia, both by Cyprus and the Greek and the Egyptian governments.