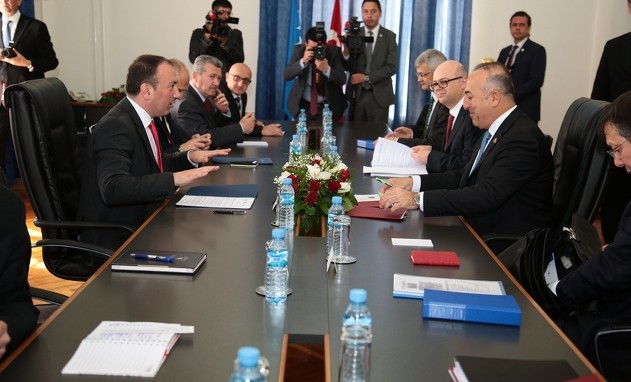 Sarajevo, April 30, 2015/ Independent Balkan News Agency
By Mladen Dragojlovic
Minister of Foreign Affairs of Turkey, Mevlut Cavusoglu, and BiH Minister of Foreign Affairs, Igor Crnadak, met Thursday in Sarajevo for the first time since Crnadak took office. As they said on the press conference after the meeting, the meeting was a good opportunity to talk in open and constructive atmosphere.
Minister Crnadak said that, on the beginning, he spoke of the terrorist attack in Zvonik.
"Unfortunately, we found that both countries face similar problems. But we have also noted our readiness to fight the evil called terrorism on all fronts and in all levels in which will be able to work together, Crnadak emphasised.
He added that he and his Turkey colleague concluded that bilateral relations between two countries are on very high level but they can be better in future. Crnadak said that BiH want to renew so-called "Trilaterala", which existed in previous period in formats Serbia-BiH-Turkey and Croatia-BiH-Turkey.
"Very soon we will set the first dates for these meetings. We expect that the continuation of this practice create a good atmosphere and that it will be of benefit to both countries. Also, one of our ideas is to try to organise the meeting of Serbia-Croatia-Bosnia and Herzegovina-Turkey group", Crnadak said.
He said that for BiH it is very important for the highest level visits between two countries to resume and added that one of the topics on the meeting was the forthcoming visit of Turkish President Recep Tayyip Erdogan.
Crnadak also said that he and Cavusoglu discussed various other topics in relation to economy and concluded that, in order to increase turkish investments in BiH, it is necessary that BiH improve the business environment in the country. As Crnadak emphasised, that will be one of most important tasks for new government in BiH in the future.
Cavusoglu said that the Republic of Turkey, and its ministry of foreign affairs, will always help BiH and that it will not find its support lacking in any way.
"I am very happy and pleased to see a very positive atmosphere that prevails after the last elections in BiH, because I firmly believe that one such positive atmosphere is extremely important for everything BiH will face on the road to progress, to development, and its path to European and Euro-Atlantic integration, Cavusoglu said.
He added that the two ministers at the meeting agreed that, in the future, economic relations and level of investments must be improved. Cavusoglu emphasised that Turkey fully supports BiH on its path towards membership in the EU and in the same way, fully supports its approximation to NATO.
photo: klix.ba