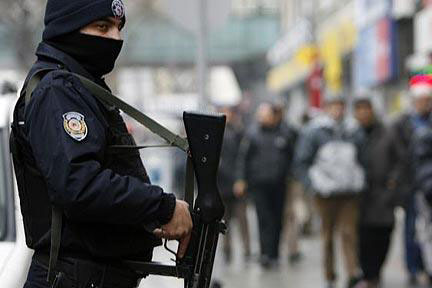 Ankara, February 9, 2015/ Independent Balkan News Agency
By Manolis Kostidis
In Turkey continue the cleansing operations against the police officers who are accused of illegal wiretappings of conversations of members of the government of the AKP.
On Sunday, 21 police officers, in various cities of the country, were arrested by order of the prosecutor who is accusing them of participating in the "attempt to overthrow the Turkish government in 2013".
This is the ninth arrest operation where dozens of police officers, prosecutors, judges and journalists are accused of working with the movement of Hizmet of the preacher Fethullah Gulen, having established a "parallel state that aimed to take over the power in the country".
The illegal wiretaps that were published on the internet had revealed the corruption scandal of the Erdogan government, forcing four of its ministers to resign.
Last Wednesday the bank of the movement of Hizmet, Asya Bank, came under state control "due to the lack of evidence of its shareholders".
Turkish president Erdogan has called for the prosecution of important members of the movement of Gulen, located within the state apparatus.
Tension with Israel
Ankara continues to keep the tones high against Tel Aviv, with the last example being the Turkish Foreign Minister's, Mevlut Cavusoglu, decision to not participate in the Munich Conference on Security.
"Due to the participation of a delegation from Israel, we decided not to take part", said Cavusoglu.
It is the first time Turkey announces abstinence from an international conference due to the presence of Israelis.
About twenty heads of states and governments are expected in the capital of Bavaria for the Summit.