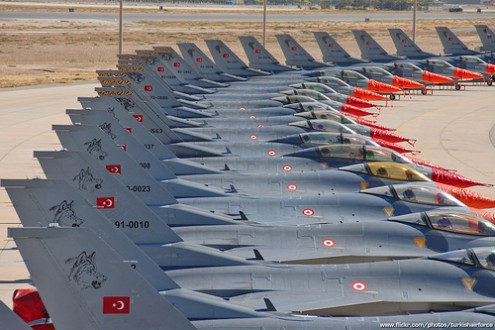 Ankara, September 12, 2016/Independent Balkan News Agency
By Manolis Kostidis
The dismissal of 265 pilots of the Turkish Air Force have led to serious consequences resulting in dozens of fighter and other aircrafts remaining riveted. That is why the Turkish Armed Forces with advertisements and commercials is looking for experienced pilots from civil aviation, while at the same time ask from university students to submit applications to continue their career in the Turkish Air Force.
The problem with the training of Turkish pilots becomes even more intense as the Turkish government, by order of Recep Tayyip Erdogan has closed and abolished all military schools, among them that of the Air Force.
According to reports in the Turkish press, the students of other schools, after passing 7 different tests such as psychological tests, interview, and after their slate has been examined, they would be edible to continue their education at the Higher Defence College that is to be set up.
In parallel, for the immediate needs of the Turkish Air Force, pilots from the civil aviation will be recruited. But the average wage of an Aviation officer is about EUR 2200, while the wages in the private sector are at least three times that and it is uncertain if the vacancies will be immediately covered.
Applications for membership in the Turkish Air Force are placed online and candidates can submit their applications until September 18.
However, the School of National Defence, which is still on the cards, is expected to be operational in early 2017 and the first graduates will come out after at least 2-3 years.
Most commanders of Turkish F-16 have been removed from the Aviation College because they are accused of participating in the attempted coup against Erdogan on July 15, while others for their relations with the terrorist organization FETO – as is referred to by the Turkish government. Erdogan argues that this organization, which leader is the Imam Fethullah Gulen, is behind the attempted coup and is calling for his extradition from the US where he lives since 1999.
The Turkish daily Hurriyet had reported in a past article that in order for the Turkish Air Force to remain combat effective, at least 300 well-trained experienced pilots must be found.
According to the Turkish government in the coup attempt had participated 24 fighter jets, two flying tanker and the headquarters of the coup instigators was the airbase Akinci.
11,500 teachers and professors were laid off
Serious problems in the educational system of the country causes the Turkish government's decision to remove 11,500 teachers from the Ministry of Education, resulting in shortages in schools. Most are accused of having relations with the organization FETO. According to reports in the Turkish press, in some cases, even having a bank account in Asya Bank that was controlled by Gulen is considered sufficient evidence for someone to be dismissed from the turkish public sector.