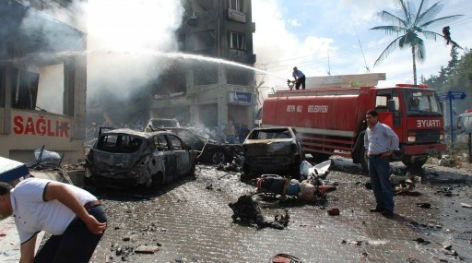 By Manolis Kostidis
The Saturday bombing attacks in the city Reyhanli of Turkey where at least 50 people were killed and 100 others injured, are causing great skepticism.
Ankara, with great ease, has accused Assad for the attack while Damascus has reciprocated the blame on Erdogan. It is a nonstop confrontation.
However, it becomes apparent, while the city of Reichanly reminds Lebanon, that Turkey with its aggressive policy against Assad is indirectly involved in the war which takes place in the area.
Since 2012, many associations and organizations of Antioch, had warned that the border between Syria and Turkey was out of control. The armed Islamists guerrillas crossed the border unhindered, they circulated in Antioch and its wider surroundings which had become supply center of Al Qaeda.
Nobody paid any attention. The protests to put an end in this situation were condemned by Erdogan, who described the protesters as "supporters of Assad."
As it happened three months ago at the outpost border of Tzilvegkiozou, where 14 people had been killed, so far, bombs were burst in the city. If the theory of Ankara that the attacks are the work of Assad was accepted as true, then the government of Erdogan would  not be at a leadership position, but "the punching bag" of the Middle East.
In the summer of 2012 a Turkish RF-4 had been demolished by Syrian air defenses. Turkey had declared that it would respond in an appropriate manner. Nothing had been done.
Twice in 2012, cannonballs from artillery Syria fell into Turkish territory which killed dozens of people.  Ankara, once again, did not respond.
Exactly the same happened after the bombings which occurred; only verbal threats.
Turkey, for several months now, deviates from Europe. It has turned its attention to the Middle East. The "bow of Sunnis" which Turkey dreams to create in the region Ahmet Davutoglu, has become a key objective of Turkish foreign policy.
The latest bombings, as well as the downing of aircrafts, the bombshells which falling on the Turkey terrain is the price of the leadership role that Turkey wants to play in the Middle East.
There is no morality, law and transparency in this region. There is only blur and uncertainty. Most importantly for the Middle East, is to test in the cruelest way, the power of those who want to claim to be strong.
The countries of the Middle East may be sending a message to Ankara which is saying "Welcome back to the Middle East!