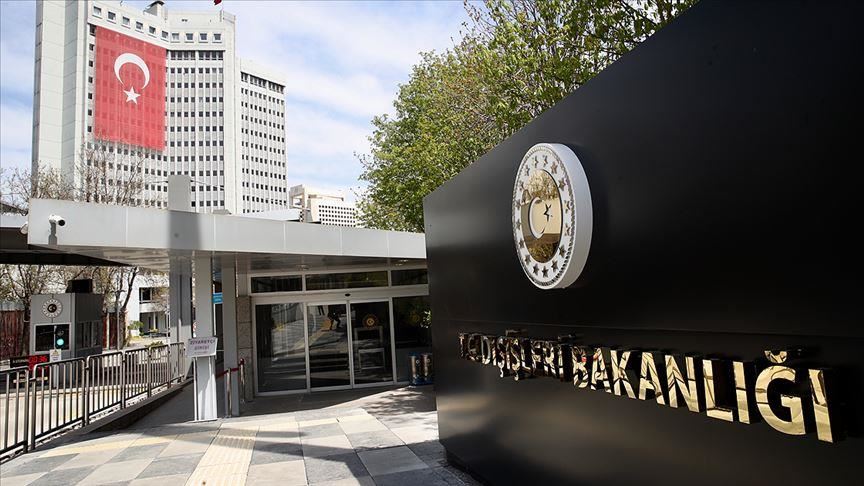 The Turkish Foreign Ministry, in an announcement, called on Greece on Sunday to stop the pushbacks of asylum seekers back to Turkey. There has been no reaction from the Greek side to Turkey's allegations so far.
In its announcement, the Turkish Foreign Ministry states:
"In two separate incidents on 23 and 24 February, asylum-seekers/migrants including women and children were battered by Greek Security Forces and left to die in despair after they were taken to an islet on the Meriç/Evros river via boats upon stealing their phones, money, valuables and shoes. Our border units rescued from death twenty-two asylum-seekers/migrants on 23 February and twenty-nine asylum-seekers/migrants on 24 February.
Interviews with pushed-back persons have revealed that some of them were foreigners who came to Greece via Serbia and Bulgaria and were pushed back to our country.
Furthermore, on 18 February 2021, Greek Security Forces took an Afghan asylum-seekers group of thirteen people, including women and children, from the refugee camp in Lesbos with the excuse of COVID-19 testing and pushed them back to Turkey after beating them up and taking their valuables and money.
Push-backs and unlawful practices that Greece has been carrying out in a systematic policy -where in some cases the EU Border and Coast Guard Agency/FRONTEX has also been involved- have been continuing for years. In the last four years, more than eighty thousand asylum-seekers were pushed back to our country.
We call upon the Government of Greece and all sides involved in push-backs to bring to an end to this practice, as well as inhumane treatments and human rights violations, which are prohibited by international law, the EU Law and the 18 March Statement. We also invite the European Union to observe, on the basis of human dignity, the implementation of the EU law and the EU Charter of Fundamental Rights in member States".
The representative of the Justice and Development Party AKP, Omer Celik, also took a swing, condemning the beating of immigrants by Greek soldiers and the confiscation of their money and passports at the border near the Turkish city of Edirne.
Celik said via Twitter that Greece maintains its inhumane approach to immigrants.
Yunanistan unsurları, göçmenlere karşı insanlık dışı yaklaşımını sürdürüyor. Yunan askerlerinin Edirne sınırında göçmenleri darp etmesini, paralarına, pasaportlarına ve hatta ayakkabılarına el koyarak hudut hattından geri itmesini kınıyoruz.

— Ömer Çelik (@omerrcelik) February 27, 2021
"The European Union must not allow these inhumane practices at its borders. This practice is not the protection of borders but the violation of human rights. With such a border guard mission, it is not possible to protect borders and discuss human rights and human values. Our nation is always the refuge of the oppressed and this is one of our greatest prides. Congratulations to our soldiers who rescued the 29 immigrants"./ibna