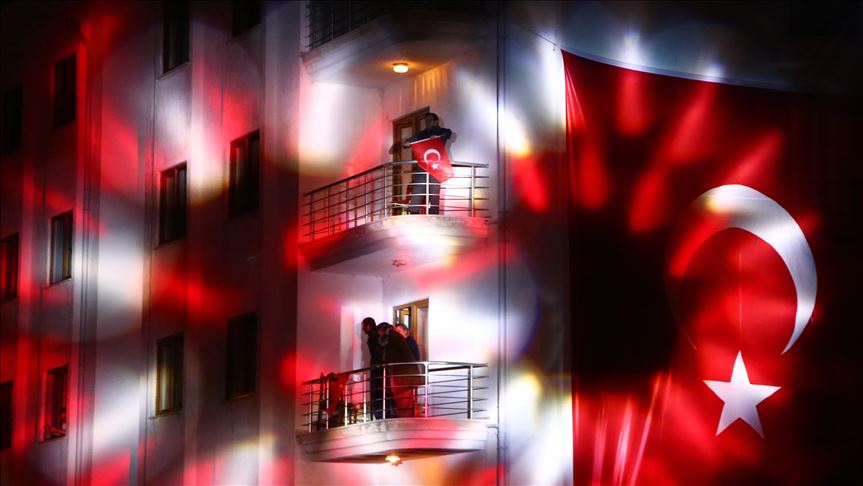 Turkey celebrated the National Sovereignty and Childrens' Day on Thursday, April 23, as well as the 100th anniversary of the establishment of the Turkish Parliament.
At 21:00 the citizens from the windows and balconies of their houses sang the National Anthem Istiklal Marsi (March of Freedom) waving Turkish flags.
Every year, on April 23, it is celebrated with official ceremonies at the national level, but this year the house was the focus of the celebrations due to the threat of the spread of COVID-19.
Every year, Turkey celebrates the first gathering of the Grand Turkish National Assembly in 1920, with official ceremonies and a visit to Anitkabir, the mausoleum of Mustafa Kemal Ataturk, the founder of the Turkish nation in the capital Ankara.
Addressing the nation on the occasion of April 23, the National Day of Sovereignty and Children's Day, Turkish President Recep Tayyip Erdogan said: "April 23 shows the value that our nation attaches to its children and its trust in the youth, in addition to the most important symbol of democracy, the national will and the sovereignty of the nation".
Welcoming all children in Turkey and the world on April 23, when Turkey proudly reached 100 years since the founding of its parliament, President Erdogan said he remembered Ghazi Mustafa Kemal Ataturk, the leader of the War of Independence, the first speaker of the Grand Turkish National Assembly and founder of the Republic – as well as all the martyrs and Ghazi of Turkey, with respect and gratitude.
Underlining the fact that the Grand National Assembly, which opened with prayers just a century ago in Ankara, served as the seat of the struggle for the nation's independence at a time when the country was under occupation, President Erdogan noted that democracy in Turkey, "the ultimate representative of the sequence of our states that spans thousands of years, has been built in a spirit of unity and solidarity".
Also marking the beginning of the holy month of Ramadan, President Erdogan extended his wishes the Islamic world. After his speech, the Turkish President sang the National Anthem, March of Independence, with children./ibna