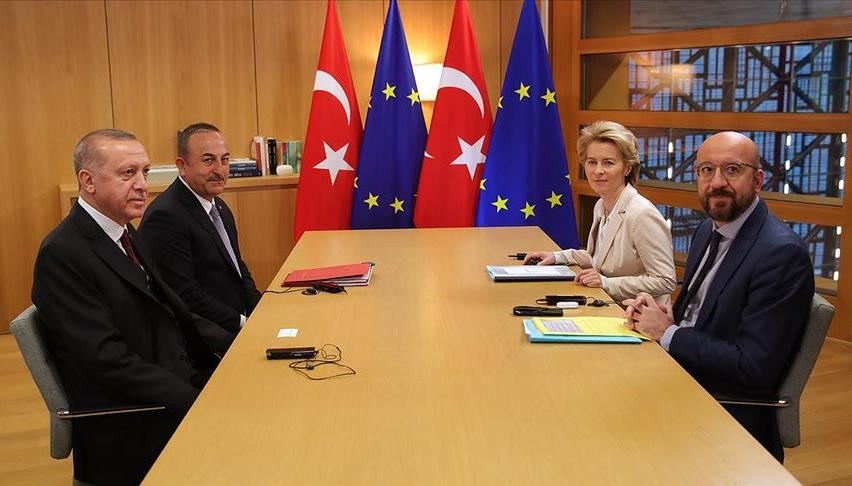 European Council President Charles Michel and European Commission President Ursula von der Leyen will visit Turkey on April 6th and to with President Recep Tayyip Erdogan, according to an announcement from Brussels.
EU Council President spokesman Barent Leyts announced the visit on March 29th as part of efforts to boost dialogue between Ankara and Brussels, following last year's strained ties over issues unfolding in the Eastern Mediterranean.
Last week, Turkey said it would continue to work with the European Union on a positive agenda outlined by Brussels, which includes renewing the agreement on migrants, upgrading the customs union and visa liberalization. The union has released a comprehensive report on its relations with Turkey, proposing the opening of a roadmap for improving co-operation in the above-mentioned areas, but also imposing sanctions in the event that Ankara changes its behavior in the Eastern Mediterranean.
Foreign Minister Mevlüt Çavuşoğlu, who was in Brussels for the NATO Foreign Ministers meeting had a chance to catch up with EU High Representative for Foreign Affairs and Security Policy Josep Borrell on 22 March at a working dinner following the report.
The EU will seek to renew the 2016 Joint Declaration on migration with Turkey, Borrell said. The 2016 agreement was reached to stop the irregular flows of refugees and  improve the conditions of Syrian refugees in Turkey.
The agenda of the talks between Charles Michel and Ursula Von der Leyen with Recep Tayyip Erdogan will include inter alia the decisions of the European Council, the developments in the Cyprus issue, dialogue with Greece, the situation on fundamental rights and the rule of law. /ibna