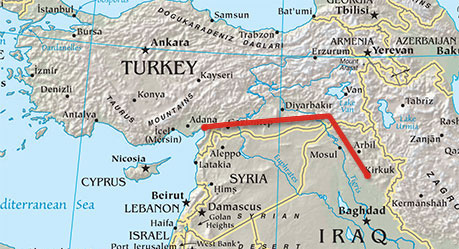 Ankara, May 19, 2015/ Independent Balkan News Agency
By Manolis Kostidis
With an impressive rate increased the flow of oil from northern Iraq to Turkey. The pipeline that was completed in 2014 has staring to yield significant results both in favor of Ankara and the Northern Iraq autonomous region.
Energy Minister Taner Yıldız announced that in March 2014 the flow of oil from northern Iraq to Turkey was only 2,300 barrels per day, while today it has surpassed the 650,000 barrels per day. "We have said that as the gas and oil flow from Iraq increases so too the situation in this country will normalize. Our goal is the flow of oil to reach 1 million barrels per day. Given that all imports of Iraq are at EUR 2.7 million, our share is large.
Turkey receives oil from two pipelines. A 40-inch and a 46-inch one. The second one was built in 2014 and only carries the oil of northern Iraq. The first one is older, since the time of Saddam Hussein, and transports the oil of the central government in Baghdad. "As you know, from these conductors flows both the oil of Baghdad and Arbil. The revenues belong to all the Iraqi people", said the Turkish minister.