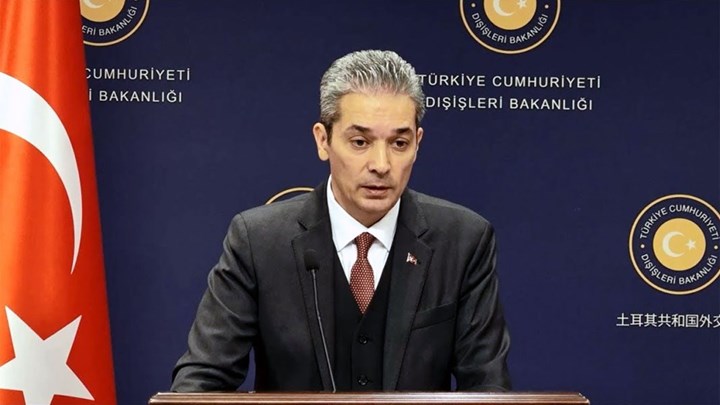 Turkish Foreign Ministry Spokesman Hami Aksoy launched an attack on the French President, through a statement, on the sanctions against Turkey requested by Emmanuel Macron during his meeting with Cypriot President Nicos Anastasiades.
"France, in every statement it makes in the context of the developments in the Eastern Mediterranean and in every wrong step it takes, loses its impartiality and the opportunity to contribute to stability", Aksoy said, adding that France supports the invader who is trying to overthrow the legitimate government of Libya recognized by the UN.
"France must now stop looking at itself in the huge mirror and pursue discreet and rational policies. He must stop supporting the conspirators of the coup in Libya, the terrorists in Syria and those who act with the logic that 'I am the sole owner of this place' in the Eastern Mediterranean", Aksoy continued.
"In this context, President Macron's statements have no value for our country", Aksoy wrote, adding that get from here on out.
"Every step our country takes in the Eastern Mediterranean is aimed at defending the legal rights and interests of our country and the Turkish Cypriots under international law", the Turkish Foreign Ministry spokesman continued.
"Turkey, for peace in the region, while reiterating its calls for dialogue and co-operation to achieve prosperity and stability, will not hesitate to protect these rights under international law", Aksoy concluded.
The strong reaction of the Turkish Ministry of Foreign Affairs came after the message that the French President Emmanuel Macron posted on his personal Facebook account in fluent Greek.
"Europe needs to take a closer look at security issues in the Mediterranean. I will soon convene a conference of the countries of the South of the European Union", Macron wrote on Facebook.
"In the Mediterranean, energy and security issues are fundamental", he said, adding that "they are becoming the subject of controversy by forces that are increasingly emerging and against which the European Union still has little influence. Europe must defend its sovereignty".
"Let us not leave our security in the Mediterranean in the hands of other actors. Once again, I want to express France's full solidarity with Cyprus and Greece in the face of Turkish violations of their sovereign rights. We must not accept that the maritime space of an EU Member State is threatened.
In Libya, we cannot allow other forces to violate the arms embargo. Operation Irini is one of Europe's answers. It is necessary to strengthen it further", concludes Emmanuel Macron in his post.
Earlier, the French President received at the Elysse the President of the Republic of Cyprus Nicos Anastasiades, who paid an official visit to Paris./ibna