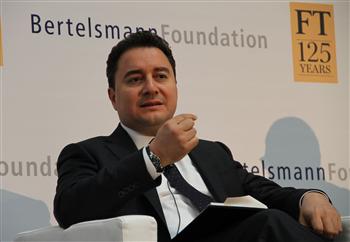 Turkey may want to join the eurozone after it has established properly functioning mechanisms, Deputy Prime Minister Ali Babacan (photo)  has said.
"When there is a complete and serious eurozone, Turkey may want to participate in it someday in the future," Babacan said during a panel discussion "The Eurozone: Has the Crisis Ended?" organized in Washington by the Bertelsmann Foundation and the Financial Times.
Among the participants of the panel discussion were Swedish Finance Minister Anders Borg, Dutch Finance Minister and President of the Eurogroup Jeroen Dijsselbloem, and French Finance Minister Pierre Moscovici.
Photo AA