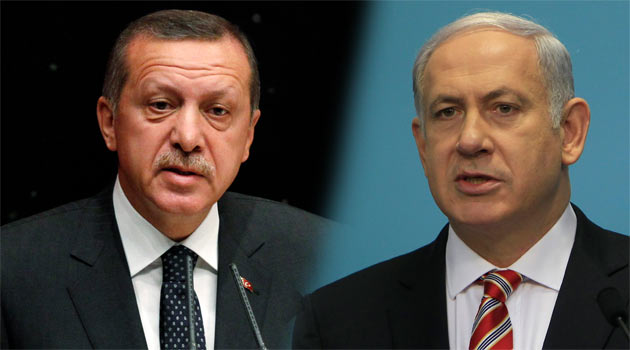 Erdogan returns to the anti-Israeli rhetoric
By Manolis Kostidis – Ankara
The bombings in Gaza, on the side of Israel seems to have collateral damage to the relations Tel Aviv-Ankara. During the last few months there has been an effort to normalise the already tense relations between the two countries, but now Recep Tayyip Erdogan, once again hardens his rhetoric  against Israel.
"Israel is terrorizing the area …but tyranny does not last forever. Sometimes the tyrant will have to pay the price", Erdogan said on the attacks.
The Turkish Prime Minister described as "similar to the methods of Hitler" the statements of the far-right party MP of "Knesset", who stated that the mothers in Gaza ought to be bombed as well.
"One Israeli woman said that the Palestinian mothers should also killed. And this woman is part of the Israeli Parliament. What is the difference between this mentality and that of Hitler's?', he wondered.
Similarly, Erdogan's daughter Sumeyye, participated in an anti-Israeli demonstration in Istanbul, where protesters carried banners with the slogan "Israel murderer".
It seems that the Turkish Prime Minister ahead of the presidential elections on August 10, in which he is a candidate, took the opportunity to return to his anti-Israeli rhetoric, satisfying his traditional conservative voters, who ask for a tough stance towards Tel-Aviv. This is why he sends his daughter to the demonstrations.
Relations between Israel and Turkey had reached the "nadir" in 2010, after the attack by Israeli commandos on the ship "Mavi Marmara", which had been sent by Turkey to Gaza to break the blockade. They had killed eight Turkish citizens.
In 2013 efforts had begun to normalize relations between the two countries. Committees of the two countries have decided on the amount of compensation to be paid to the victims, as Benjamin Netanyahu, with the intervention of Barack Obama, in a telephone conversation apologized to Erdogan.
But the strong criticism by Ankara seems to have restored relations to their troubled past.