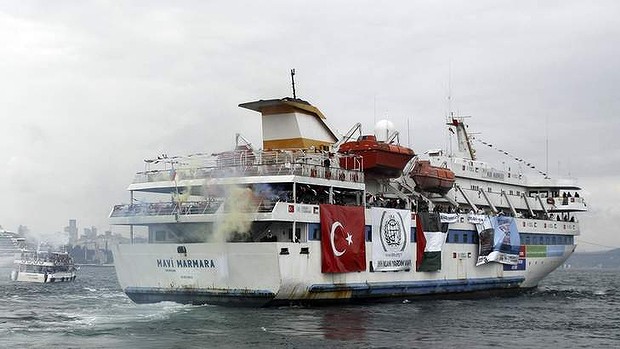 Israel will give $21 million indemnification for the victims of Mavi Marmara
The main goal is the transportation of natural gas to Europe
By Manolis Kostidis – Ankara
The process of the restoration of the diplomatic relations between Israel and Turkey, which had reached a critically low point after the invasion of Israeli commandos on the Turkish ship Mavi Marmara off the coast of Gaza, appears to be entering its final stage.
According to the turkish newspaper Vatan, within the next ten days, Ankara and Tel Aviv will finalize the agreement for the compensation for the Israeli attack on the ship where nine people were killed. Israel reportedly agrees to pay damages amounting to 21 million dollars to the families of the victims.
On March 24,  a few days before the municipal elections, Erdogan had closed significantly fronts with Israel and the USA. It is no coincidence that the right hand of Benjamin Netanyahu, former member of Mossad David Maydan, had hurried in Ankara on March 24 to meet with the head of turkish secret service, Hakan Fidan, and other government officials.
According to the newspaper Taraf, the two sides came to an agreement to restore diplomatic relations at ambassadorial level, in addition to agreeing on the amount of compensation that is to be given to victims of the Mavi Marmara.
Recep Tayyip Erdogan, in an interview with the U.S. television network PBS last week stressed that the agreement between Israel and Turkey will be completed within the next few days.
The turkish Press report that according to information, the diplomatic relations between the two countries will be restored immediately after the payment of the agreed compensation. There is even talk of Erdogan visiting Tel Aviv some time in 2015!
Israel seems to be interested in the issue of guarantees from Ankara to not cause tension in the eastern Mediterranean during the search for the determination of gas deposits. The two sides discussed the possibility of transporting the Israeli gas to Europe via Turkey.