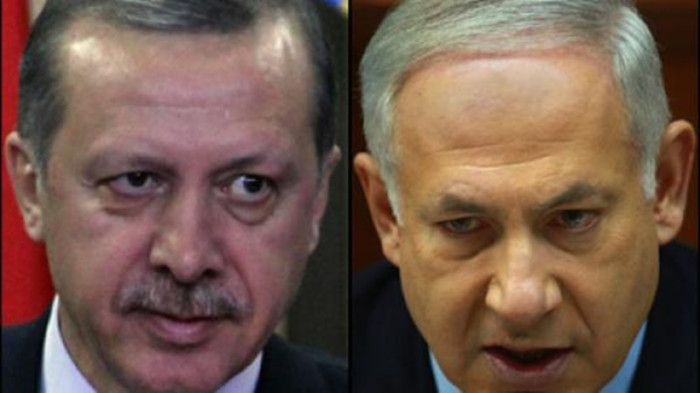 Ankara, June 27, 2016/Independent Balkan News Agency
By Manolis Kostidis
Syria and the transport of Israeli gas to Europe the real reasons that brought the deal
In the most official way Israel and Turkey announced the agreement, which will lead to the normalization of the two countries' relations. Turkish Prime minister Binali Yildirim stated that the conditions of Ankara have been satisfied, while the Israeli Prime minister on his part spoke of significant economic benefits and for the transport of Israeli gas to Europe via Turkey.
The two Prime ministers in separate cities held simultaneous press conferences
Yildirim in Ankara reported that Israel agreed to pay USD 20 million to the victims of the Mavi Marmara ship, which had been killed by Israeli commandos. He also stressed that Israel had already apologized for the incident, adding that Turkey this week will begin shipping humanitarian aid to Gaza, which will reach the hands of the Palestinians through Israeli ports. At the same time he said that Turkey plans to build a hospital in Gaza and he mentioned the production of an electricity power plant.
Committees of the two countries had begun talks in 2013. At the time Netanyahu, with the mediation of Barack Obama, had talked on the phone with Erdogan and had apologized for the incident.
The talks were concluded on Sunday night in Rome and will be confirmed directly by the Parliaments of both countries. Yildirim announced that Turkey will immediately send 10,000 tons of humanitarian aid to Gaza.
Hamas is leaving Turkey
The Turkish press said that although there is the official text of the agreement, Ankara in return agreed to end any presence and activity of Hamas in Turkey, while at the same time promised close military cooperation as was the case before 2010. At the same time, the two countries seemed to have agreed on an energy cooperation.
The Israeli gas will be transported to Europe via Turkey
This is confirmed by the statements of Benjamin Netanyahu in Rome, who after announcing the deal, said that the sea blockade of Gaza will continue. At the same time, he stressed that the normalization of relations with Turkey "paves the way for the transportation of Israeli gas to Europe".
Syria brought them closer
Analysts point out that the two countries have come even closer due to the developments in Syria.
Tel Aviv is disturbed by the presence of Iran in Syria and the cooperation it has with the Assad regime, while Ankara fears the creation of a Kurdish zone in northern Syria and wants to overthrow Assad.
US Foreign Secretary John Kerry who had met with Netanyahu earlier, expressed his satisfaction with the agreement and stated that "it was a step we wanted".
Relations between the two countries had reached its nadir when on May 31, 2010, Israeli commandos had boarded the turkish ship "Mavi Marmara", which was trying to break the blockade of the Gaza Strip, resulting in the death of nine Turks aboard the ship.