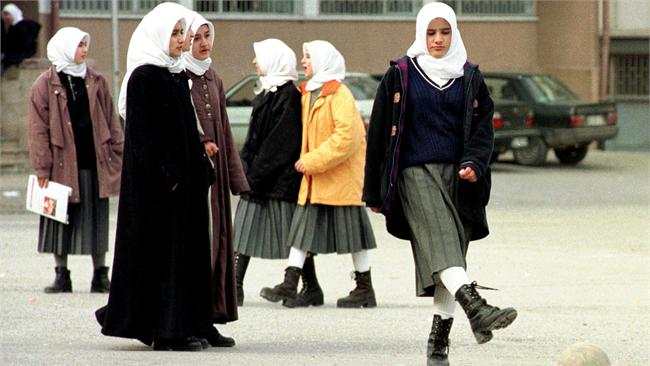 By Manolis Kostidis – Ankara
A major change in the educational system of Turkey has been made by ​​the government of Ahmet Davutoglu causing major reactions.
According to the announcement by the deputy prime minister Bulent Arinc, the Cabinet decided to end the ban on the Islamic headscarves in all secondary schools! The ban has been in force since 1925, based on the principles of religious freedom and secularism that had been established by the founder of the Turkish Republic, Mustafa Kemal Ataturk.
In 2012 the ban on headscarves had been lifted in all Turkish universities. But removing the ban in secondary schools as well, has caused reactions, since even girls at the age of 11 will be able go to school wearing the symbol of the Muslim religion.
In turkish schools there is a dress code where students are required to wear specific uniforms and up to now the students "had to have their heads uncovered and not wear anything".
The opposition argues that repealing this ban violates the principles of secularism established by Kemal Ataturk, and that now, one can exert pressure on students who do not wear headscarves to attend school with wearing the hijab.
The opposition newspaper Sözcü writes that "the government put a mandatory religious class, has opened thousands of religious schools, has made spaces for prayer in schools, and after the universities, proceeded with allowing the hijab in schools. This is repealing the principles of secularism".
The turkish government, however, argues that "many families have been making this request for many years. We are satisfying this request".
Government officials say that no one has the right to interfere with someone else's manner of clothing and after this request was satisfied in universities it was implemented in secondary schools as well.
The daughters of the turkish president Recep Tayyip Erdogan have studied in the U.S., due to the ban on Islamic headscarves in turkish universities at the time.