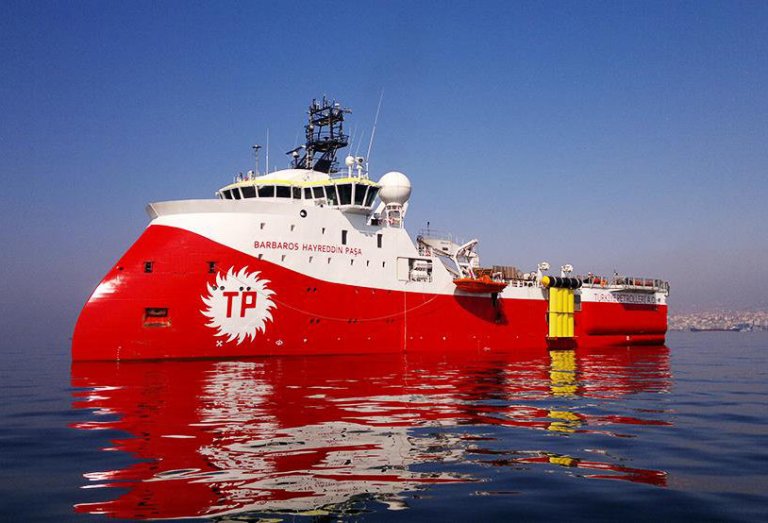 Turkish Energy Minister, Fatıh Donmez, announced two new Sea surveys, in the Mediterranean and the Black Sea, stressing that Turkey is determined to defend its rights in the eastern Mediterranean.
Donmez said that i"n the Eastern Mediterranean, the Exclusive Economic Zone (EEZ) of Turkey and in areas of our jurisdiction we have declared that we will continue exploring and extracting oil and gas without the permission of anyone. There, as you know, our two ships, the Barbaros research ship and the Fatih drilling ship, started mining and the works continue. We have no aspirations in anyone's resources, but no one should have any aspirations and say in our own resources.
The Turkish Energy Minister, in an interview with the A Haber television network, said that after the acquisition of the floating drill Fatih, in one week will begin its trip to Turkey the second drilling machine bought by Ankara, DeapSea-1
"Within a week it begin its trip. When we bring this one too, we plan to make two drills a year with both ships".
For the research ship Barbaros, Donmez said it continues its investigations to the north of Cyprus and stressed that in the past Fatih had been harassed, but he said that the said ship was now accompanied by Turkish warships and there hasn't been any other harassments.
Referring to the drilling of the Republic of Cyprus, the Turkish Minister stressed that "we will not show any tolerance to those who take unilateral actions and try to cretate fait accompli", adding that "the state oil company of Turkey will continue the works it has announced, within the framework of the authorization granted by the 'Turkish Republic of Northern Cyprus'".
Turkey to become an energy hub with Putin's help
Vladimir Putin visited Istanbul on the occasion of the ceremony for the completion of the submarine phase of the gas pipeline TurkStream in the Black Sea.
During a ceremony, Putin along with Recep Tayyip Erdogan watched via video the placement of the last pipe along the length of a 930-kilometer section of the pipeline. "For us, Russia is a friend that we can have long-term cooperation and is a major gas supplier", the Turkish president said.
For his part, Putin argued that "such a project would not be a reality if the two sides had no trust".
"TurkStream is fully in line with Turkey's national interests and projects like TurkStream are not directed against anyone", he said.
The pipeline will directly link Russia's large gas reserves to the Turkish gas transmission network. 50% of the gas to be transported to Turkey after the completion of the land-based phase of the project in 2019 will be transferred in eastern and southern Europe, including Greece./IBNA