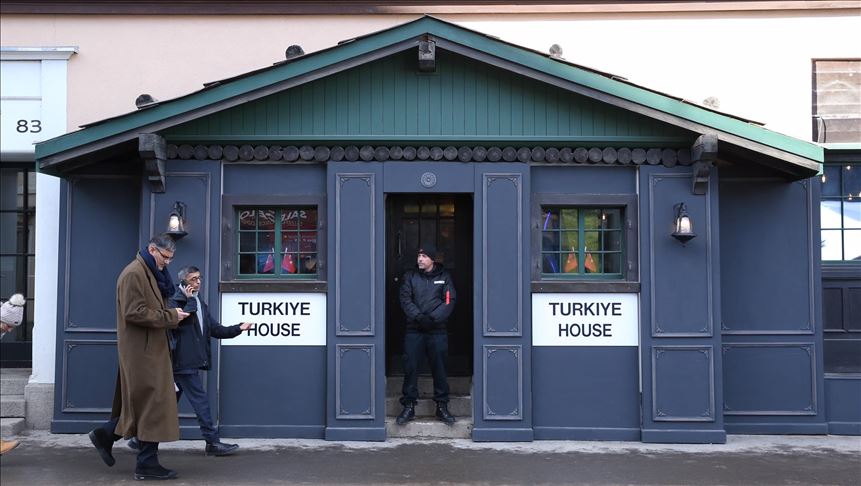 A "Turkish House" was created at the World Economic Forum (WEF) in Davos, Switzerland, with the aim of promoting investment opportunities in Turkey.
It started under the auspicies of the Ministry of Economy and Finance, in coordination with the Banking Association of Turkey.
Introducing a model of the Istanbul International Finance Center (IIFC), the "Turkish House" will present local products.
Representatives from the Turkish Property Fund (TWF), the Turkish Investment Bureau and the Turkish Ministry of Finance have scheduled bilateral meetings with executives from investment companies, fund and investment managers from other countries, as well as portfolio managers.
The "Turkish House" will be open throughout the Davos Summit, which hosts more than 3,000 high-level participants from politics, the business world, investment promotion agencies, top financial institutions and media representatives.
After implementing many projects over the last year, TWF managers have sought to make the most of the "Turkish House", by effectively sharing the fund's roadmap with other institutions and setting goals in the short and medium term.
Turkey expects economic growth to reach 5% in 2020 and to do so, more investments must be made in the country, TWF Managing Director Zafer Sonmez told Anadolu.
Sonmez said Davos is one of the major platforms for large investors and international funds to come, adding that the greater Turkey's presence in Davos, the more it will attract the attention of international investors.
"We have a very full agenda by the end of the session, with meetings with foreign investors and with other countries' capital funds. From now on you will see the "Turkish House" in Davos every year", he added.
Founded in 2016, Turkey's Property Fund holds all or part of the shares of several Turkish companies, such as Turkish Airlines, telecommunications giant Turk Telekom, state-owned banks Ziraat Bank and Halkbank, Turkish oil company Petroleum, as well as the Borsa Istanbul stock market./ibna