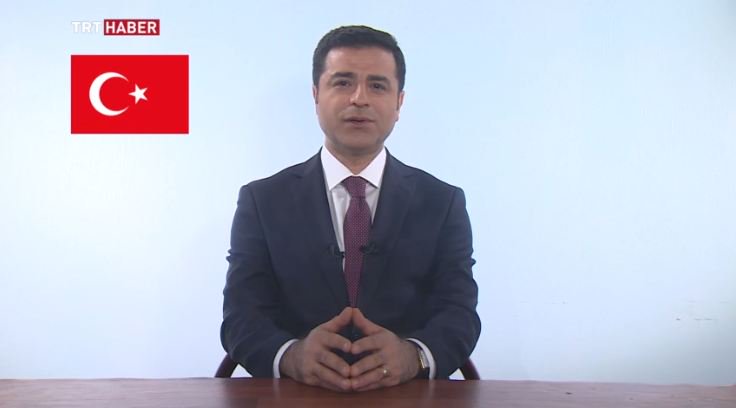 He has been behind bars for nearly 20 months on security charges and if convicted he faces a 142-year long prison sentence.
Perhaps some have forgotten his name but he remains up onto his feet, not even an inch lower or with bent knees, although the time that has gone by, especially in his Edirne cell, has not been a piece of cake. A Reuters report proves so when journalists refer to a "a visibly thinner Demirtas"
Still, Selahattin Demirtas appears strong and decisive, saying that, "The only reason I am still here is that the AKP is scared of me. They think tying my hands here and going from square to square spreading accusations about me is being courageous (…) They are openly violating the constitution by declaring me guilty even though there is no conviction ruling against me, and are trying to direct the public by misinforming them."
"Speaking on state broadcaster TRT in a scheduled 10-minute address, to which he is entitled under election law, Demirtas said voting for Erdogan and his ruling AK Party would mean putting the fate of the country 'between one man's two lips'."
Demirtas, was nominated by his Peoples' Democratic Party (HDP) as a candidate in May. He is a well-known politician in his country, Turkey, with his own followers.
According to Reuters, "Turkish media have been saturated with coverage of President Tayyip Erdogan and his ministers" but he has withstood the reality he is faced with and the rough conditions of his detention in connection with his candidacy by successfully running his campaign "through social media from his prison cell".
His part,y the HDP had organised an open-air gathering at Bakirkoy square, Istanbul in order for the supporters to watch Demirtas' televised address altogether with hundreds of them attending it.
Last but not least, Demirtas sent a letter to the French -but otherwise internationally famous- newspaper LeMonde, saying that "we must admit that the European policy is not doing much to support Turkish citizens in their struggle for freedom (from) inside their open prison.
The upcoming polls in Turkey, will, above all, express (people's) choice between dictatorship and democracy."… / IBNA