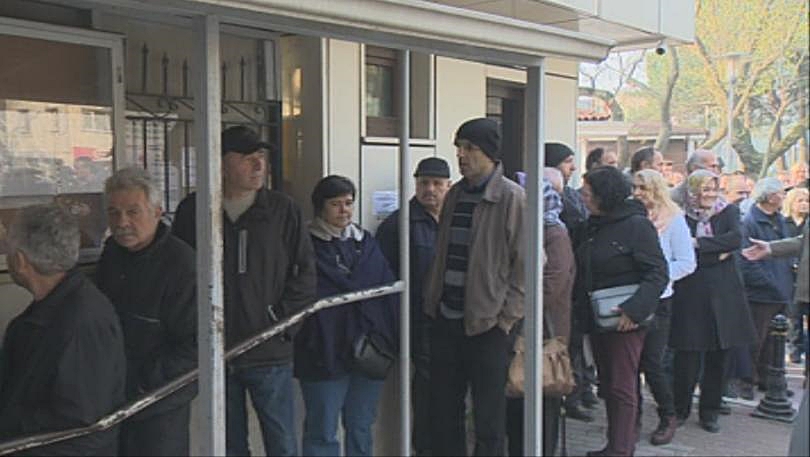 The March 2017 parliamentary elections in Bulgaria may be over, but the issue of Turkey's role in Bulgarian domestic politics that so dominated the days before the vote has not gone away – and is not likely to for many years.
Bulgaria's nationalist United Patriots coalition, which won a kingmaking third place in the National Assembly elections, is setting one of its preconditions for possible participation in a governing coalition that the number of polling stations in Turkey be slashed.
At the same time, a group of Bulgarian passport-holders in Turkey say that they will approach the European Court of Human Rights in an action against the Bulgarian state, saying that their franchise rights were violated on election day.
Turkey, and Bulgarian citizens in Turkey, have had a fixed place in modern Bulgarian politics for decades.
A 1980s project by Bulgaria's communist regime to force Bulgarians of Turkish ethnicity to adopt Slavonic identities eventually resulted in a mass exodus of hundreds of thousands of people to Turkey. There, they have formed an electoral stronghold that accounts for a significant part of the support base of the Movement for Rights and Freedoms, founded in the 1990s by Ahmed Dogan.
On the other side, nationalist political formations such as Volen Siderov's Ataka, VMRO and the National Front for the Salvation of Bulgaria – latterly together in the United Patriots coalition – always have made opposition to Turkey and to the MRF one of their main signature issues.
The United Patriots coalition features politicians who routinely invoke Bulgaria's past as part of the Ottoman empire for five centuries, who accuse Turkish president Erdogan of neo-Ottomanism and who oppose Turkey joining the EU.
This time around, the practically open support from Ankara for former MRF leader Lyutvi Mestan's breakaway DOST party has been grist to the mill of the "Patriots". The latter part of the nationalists' campaign saw ostentatious protests at the Turkish border, billed as blocking buses bearing voters coming into Bulgaria as overflow from the limited number of polling stations in Turkey.
By recent Bulgaria law, there may be no more than 35 polling stations in a non-EU country, a move pushed by the nationalists as openly directed against the influence of the vote in Turkey. Ahead of the March 2017 elections, the largest number of applications to vote abroad came from Turkey.
With the "Turkish" vote so much in the headlines, Bulgarian media deployed correspondents to polling stations in Bursa and Istanbul, and in some cases, to monitor border-crossings by specially-rented buses.
At the polling stations in Turkey, matters were complicated by a last-minute rule imposed by Bulgaria's Central Election Commission, that voters abroad should complete a declaration that they would not vote anywhere else after casting a ballot at a polling station in a foreign country.
This new rule bogged down the process, in part because election officials in Turkey rejected any attempt by voters to cast a ballot if they arrived with the form filled in in advance. Allegedly, those who did fill in a form in front of officials had it rejected if the officials found any errors in grammar, spelling or penmanship. Reportedly, some of those trying to vote had difficulty writing in Cyrillic or in grammatical Bulgarian, having lived outside the country for decades.
The net effect is that while a reported 50 000 people living in Turkey had the right to vote in Bulgarian elections, the actual number who did was significantly reduced by the time-consuming process of submitting the formal declaration newly required by the CEC.
Relations between Bulgaria and Turkey are always complex. It has been Sofia's stated policy for years to support Turkey's EU accession process. The two are allies in Nato. Bulgaria, an EU country, recently has been among those deeply concerned by Turkish threats to unleash millions of refugees across its border into the EU.
Ankara's intervention to back DOST was a difficult matter for the caretaker administration, which while trying to maintain cordial relations with Turkey – and underlining the importance of doing so – still found itself in a diplomatic squabble over the interference.
A new government in Sofia will face familiar domestic difficulties. The nationalists will want a tougher line against Turkey and, specifically, large-scale paring-back of voting in Turkey.
The MRF, which won seats in the new National Assembly, and DOST, which did not, always will seek to protect their electoral interests in Turkey. The MRF for years has billed itself as the "guarantor of ethnic peace" in Bulgaria.
It is difficult to imagine how Bulgaria could curtail expatriate voting, unless it makes a universal rule that voting in all foreign countries is only at diplomatic and consular missions – a move that would hit huge numbers of Bulgarian voters in, for example, the UK, Germany, the US and Spain. Any legislation that practically hampers the exercise of the franchise would be likely to face a constitutional challenge – provided, of course, sufficient MPs back one, or another state institution entitled to do so lodges a query in the Constitutional Court.
In this Parliament, Boiko Borissov, leader of GERB – the party that won the most votes – has pledged to not involve the MRF in a governing coalition. That leaves him, in a five-party legislature, with few options beyond the nationalists who would give him sufficient MPs' votes to govern. In the coming days and years, much will be heard about the topic of Turkey./ΙΒΝΑ
(Voting in the Turkish city of Bursa on March 26 in Bulgaria's parliamentary elections. Screenshot via BNT)