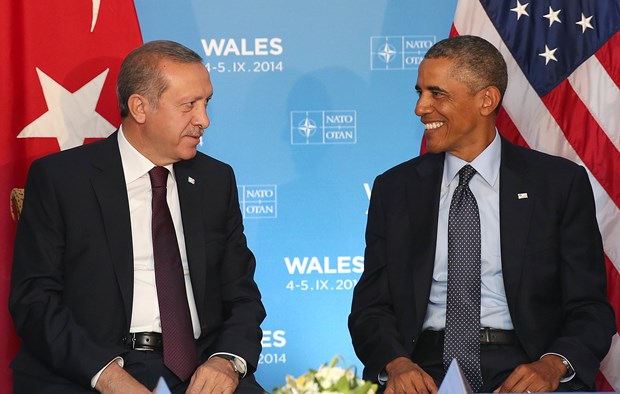 Sudden Obama-Erdogan meeting
By Manolis Kostidis – Ankara
The air strikes against the positions of jihadists in Syria that were made ​​near the turkish border, raised questions for the participation of Turkey in the military operations launched by the USA.
Turkish president Recep Tayyip Erdogan said that Ankara "could support any military operation against ISIS and any other terrorist organization".
In Turkey, there are rumors of the involvement of turkish forces in the operations, but there was a direct denial by the government.
Nevertheless, the use of the U.S. base of Intzirlik in Adana by U.S. fighters jets is considered a certainty. In this case it appears that Turkey granted a "tacit approval" for its use in air raids.
Turkish deputy prime minister Yalçın Akdoğan, who is also adviser to Erdogan, said that "participation in the operations does not only mean shooting bullets, but includes the provision of assistance and supplies".
Unannounced Obama-Erdogan meeting
The Turkish president who is in the USA for the meeting of the UN, had an unannounced sudden meeting with Barack Obama, with the two men discussing developments on the ISIS issue. The meeting of the two presidents was announced after its completion and had was not on the agenda.
Obama and Erdogan had met 18 days ago in Wales and a second meeting so soon raises questions. The U.S. president calls for the Turkish participation in military operations, and Erdogan is trying to convince his U.S. counterpart to establish a buffer zone inside Syria for hosting refugees and the continuation of the efforts to overthrow the regime of Bashar al-Assad!
Obama, before these recent meetings had imposed an informal "embargo" on Erdogan, since for 9 months he did not meet with him, neither was he answering his telephone calls.