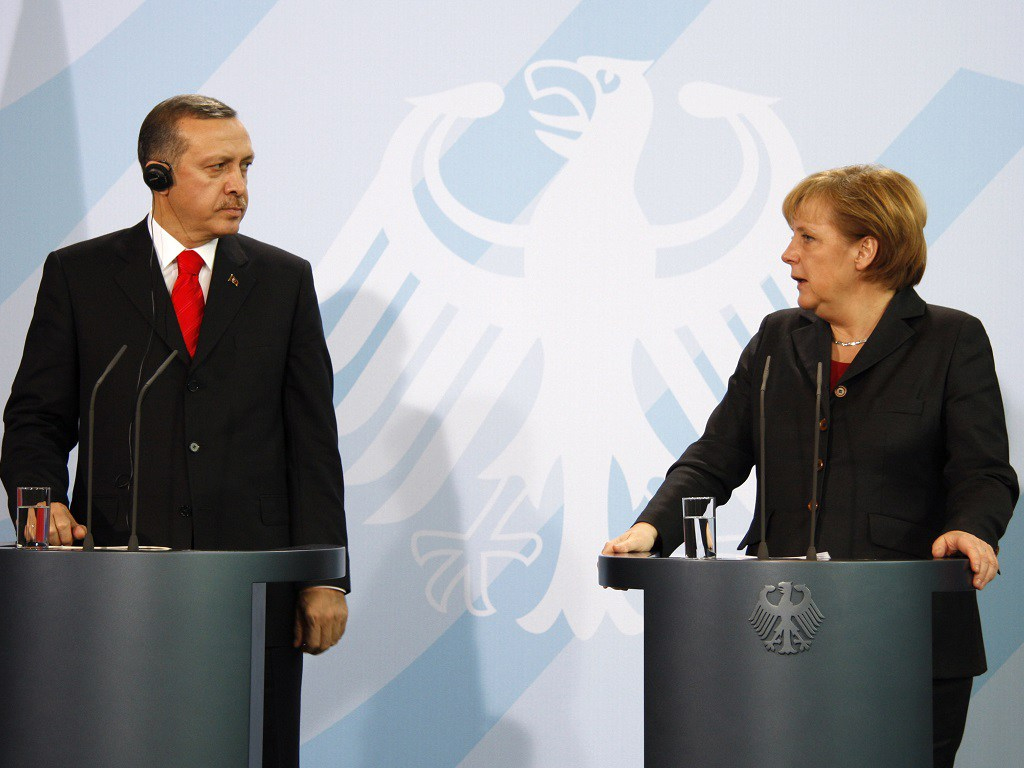 Recep Tayyip Erdogan reiterated he supports the "kazan-kazan" ("win win") theory as far as Turkey's bilateral ties with Germany are concerned. This is what he told reporters at the joint presser they gave with German Chancellor Angela Merkel after their meeting in Berlin.
Once again, he repeated that he wishes to see relations with Germany improve and mentioned that Turkey is adopting such reforms that will bring it closer to Europe.
Turkey's head is paying a visit to Germany after seven stagnant years. On this three-day state visit, his main goal is to attract investments.
However, as IBNA has underlined in recent relevant articles, Angela Merkel did state she supports a strong and stable Turkey but there are thorny issues dividing the two sides, namely press freedom and human rights. "There have been disagreements between us", she underlined, "Like the freedom of the press. However, we have been delighted that in some specific cases a solution has been found. Still, now that we are talking, there are German prisoners (in Turkish jails) and I am trying to help solve these issues."
Migration wise, the Chancellor praised Turkey and said "it is a country which hosts millions of refugees." She also announced that a summit on Syria is going to be held, with the participation of Germany, Russia, France and Turkey.
In any case, the Turkish president should not be pleased with Germany's stance over the Guilenists (Gulen's supporters), whom Ankara regards as terrorists and demands their extradition (from Germany to Turkey). Angela Merkel replied that she needed extra evidence before she labels FETO as a "terrorist" organisation, stressing that, it is thanks to such evidence that the PKK has already been listed as a terrorist group. "We are dealing with the details provided by Turkey, but we need more material if we are to call (Gulen's organisation) the same way as the (Kurdish) PKK."
Erdogan, for his part, noted that Turkey has the right to request the extradition from Germany of Can Dundar, former director of the opposition Cumhuriyet newspaper, whom he described as "an agent convicted of espionage." "This person has been sentenced to 5 years of imprisonment and is (considered) a criminal under Turkish law". Dundar was sentenced in 2016 because he published a video showing a Turkish intelligence agency truck carrying weapons to Syria. They were released from prison pending their appeal and in the meantime, Dundar left the country.
Dundar, who lives in Germany, was accredited to be at the Erdogan – Merkel press conference. He had announced he would be there. According to information, when the Turkish president was informed of his possible presence, he threatened to cancel the presser. Eventually, Dundar did not show up at the press conference, and Merkel said he "he himself decided not to attend".
Referring to the issue of lifting the visa regime for Turkish citizens as well as updating the customs union agreement, the Turkish leader said they would benefit both the EU and Turkey. "These should not be left to the whims of some sides", he told media. He also spoke about lifting the state of emergency that had been imposed after the 2016 failed coup, and he spoke of reforms that are on the way.
Merkel reminded that there are 5 categories of German citizens who have been in prison for a long time without having been charged. Erdogan, on the other hand, spoke of the (Turkish) "independent justice", stressing that in the past there have been court decisions with which he disagreed. In addition to any existing differences connected with the freedom of press and human rights, the climate between Berlin and Ankara is beginning to improve.
Analysts believe that Turkey may be releasing some German nationals in the next few days, as was the case with Die Welt's Turkish-German journalist Deniz Yücel, who was released overnight.
During the press conference, a Turkish journalist living in Germany unbuttoned his shirt and revealed the logo on his T-shirt that read "freedom to journalists", in Turkish.
German police officers removed him from the room immediately.
The main agenda of the Berlin-Ankara relations is expected to be discussed in detail at the Merkel-Erdogan meeting this Saturday morning (29/09), when they will have breakfast together.
On Friday evening, German President Frank-Walter Steinmeier organised a dinner in honour of the Turkish president… / IBNA