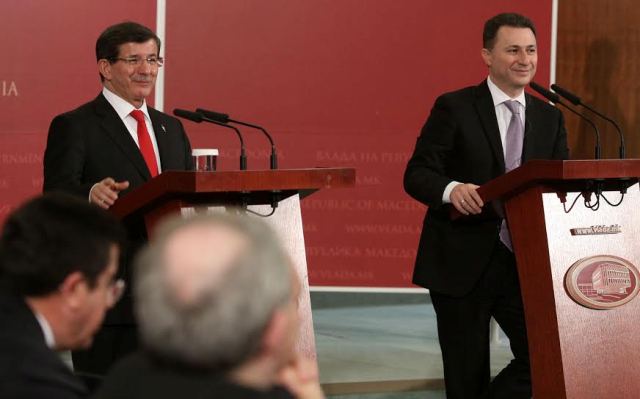 Skopje, December 23, 2014/Independent Balkan News Agency
By Naser Pajaziti
Turkish Prime Minister, Ahmet Davutoglu is on a two day visit to Skopje. Today, Mr. Davutoglu has participated in a Turkish-Macedonian business forum after which he held meetings with senior government officials.
In a news conference with PM Nikola Gruevski, Davutoglu and his counterpart have underlined the importance of boosting cooperation and partnership between the two countries.
"Turkey is an old friend and it supports the Euro-Atlantic integration of our country. We respect the powerful support of this country, including issues concerning national interests. Turkey is among the ten countries that we have the highest trade volume. We will continue to offer good conditions for businesses and we will also boost cooperation in the domain of tourism, cultural policies and cooperation in other domains", said PM Gruevski.
Turkish PM, Davutoglu said that "Turkey is the first country to recognize Macedonia's constitutional name after its independence" and added that this country is a strategic partner for Turkey.
"Although Turkey and Macedonia do not share borders, for us, Macedonia is more than a neighbor, we have close historical ties together. In this context, when you see that relations between the two countries are based on three pillars: cultural, political and economic, then we come to the conclusion that Macedonia is of a special importance to Turkey", said Davutoglu.
Mr. Davutoglu also talked about commercial cooperation and the increase of Turkish investments.
"Our objective is to increase investments and commercial exchanges. So far, our trade volume has been 450 million Euros a year, but we expect this volume to go up to 1 billion Euros", Davutoglu said.
Davutoglu, who pointed out that FYROM is the heart of the Balkan, stressed the need for stability and peace in the region.
"In case this country has political stability, something for which we have always contributed, the entire Balkan will enjoy peace. In the case of such stability, Macedonia may be one of the most important countries in the future as far as economy is concerned. Currently, Macedonia may face different problems such as the name dispute or economic balances, but we're the natural trade partner of this country. We must bear in mind the fact that this country integrates with our state and based on this, we will make our strategic investments", said the Turkish PM.
Davutoglu brought to the attention the presence of different ethnic groups and religions in FYROM and he said that this is the reason why FYROM must enjoy stability.
The Turkish PM also held meetings with the business community, other state officials and representatives of the Turkish community in FYROM. /ibna/