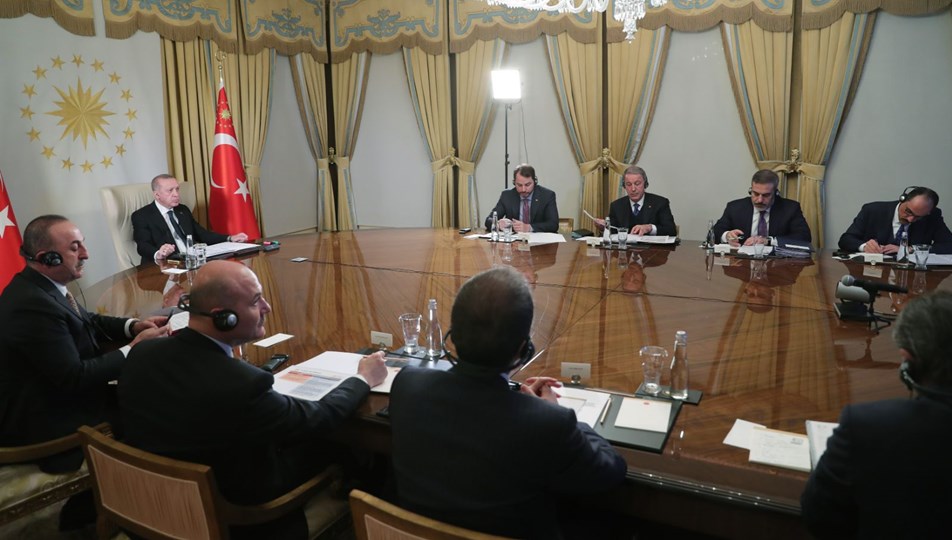 Turkey fears rapid surge in number of coronavirus outbreaks
Recep Tayyip Erdogan, Angela Merkel, Boris Johnson and Emmanuel Macron, during a teleconference held today discussed the developments in Syria and the migration crisis, as well as possible joint actions to combat the coronavirus pandemic.
According to the announcement by the Turkish Presidency, "during the quadripartite talks between the leaders of Turkey, the United Kingdom, France and Germany, the parties discussed joint efforts to combat the spread of coronavirus, providing humanitarian aid to the Syrian province of Idlib, the developments in Libya, as well as the Turkey-EU relations".
The quadripartite meeting was scheduled to take place on Tuesday after Ankara's decision to open its borders and allow refugees and migrants to cross into Europe. Instead, it was carried out via videoconferencing due to the risk posed by the coronavirus pandemic. The leaders of Turkey, Great Britain, France and Germany tried to overcome Ankara's disputes with the EU that emerged during Erdogan's meeting with EU Commission President Ursula Von der Leyen and President of the European Council Charles Michel.
Ankara is claiming more money for more refugees allegedly residing in its territory, arguing that the terms agreed in the March 18 statement on visa liberalization for Turkish citizens must be respected. However, European officials made it clear that as long as Ankara left the Evros border with Europe open and failed to meet the 72 visa requirements, talks could not proceed.
Against this background, the number of coronavirus outbreaks in Turkey has risen to 47. Turkey's Health Minister Fahrettin Koca prefers to announce the updates at midnight.
A broad meeting of ministers and scientists chaired by Erdogan is expected to take place today at the Turkish Presidency. The President of Turkey is expected to address the public. The Turkish Presidency's Communications Director Fahrettin Altun denied rumors of a prohibition of movement and of the country declaring a state of emergency.
The Turkish Defense Minister announced the closure of all military schools until April 13th.
10,330 pilgrims who returned from Mecca remain in quarantine. 23 of them escaped and were arrested by the police. Another 3,300 Turkish citizens that arrived from 9 European countries were repatriated and were placed in quarantine for 14 days on precautionary grounds. /ibna