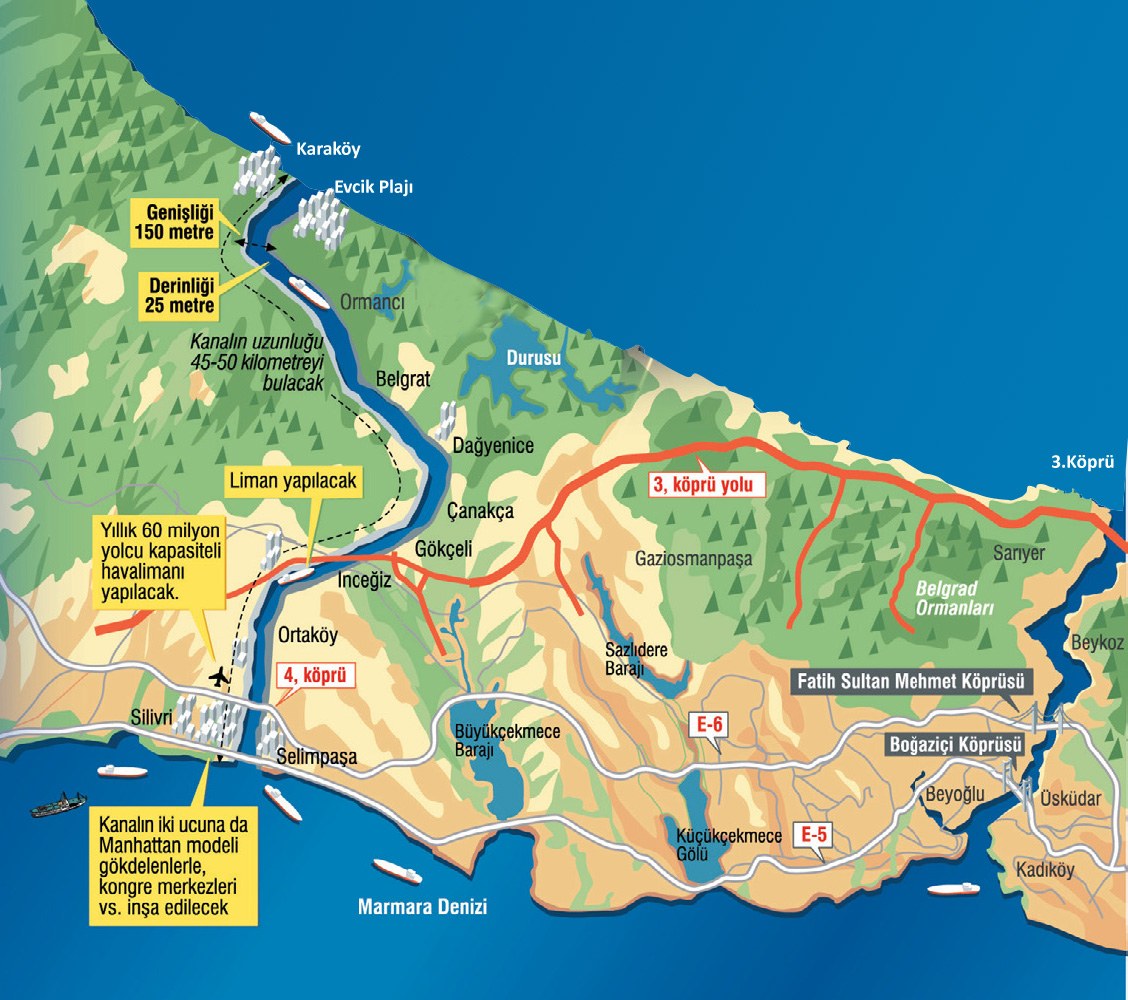 Ankara, March 8, 2015/ Independent Balkan News Agency
By Manolis Kostidis
Turkey plans to gear up on plan to construct the Istanbul canal (Kanal İstanbul). According to the pro-government newspaper Sabah, by the end of May 2015 the study will be ready followed by the tender of the project, which when completed will operate along that of Bosporus and will help with the latter's decongestion from the passage of ships.
Kanal Istanbul is a project that was announced by Erdogan in 2011 and he has reportedly ordered the acceleration of the tender, in order to take place before the parliamentary elections in June 2015.
The project, which will be built in eastern Thrace, will have a length of 43 km, width of 400 meters and a depth of 25 meters. It will start from the Black Sea and end in the sea of ​​Marmara and is expected to cost more than USD 10 billion.
Six bridges will be built along the canal, in addition to a new city of 500,000 inhabitants. However, according to Hürriyet, the original construction plan envisaged 15 to 20-storey buildings, while in the new project these do not exceed 6 floors.
If construction of Kanal İstanbul begins on time, it will be completed by 2023, the 100th anniversary of the founding of the Turkish Republic.
When the project is completed it might change the status of the Straits, since the Treaty of Montreux will not apply to it as it does for Bosporus, meaning that an unlimited number of warships and merchant ships will be allowed to pass.
At the same time, with the construction of this canal tanker ships will not be delayed when passing the Straits, thus eliminating the possibility of the construction of Burgas-Alexandroupoli oil pipeline, since the only reason for its construction are the long delays for the crossing of the Straits of Bosporus and Çanakkale.