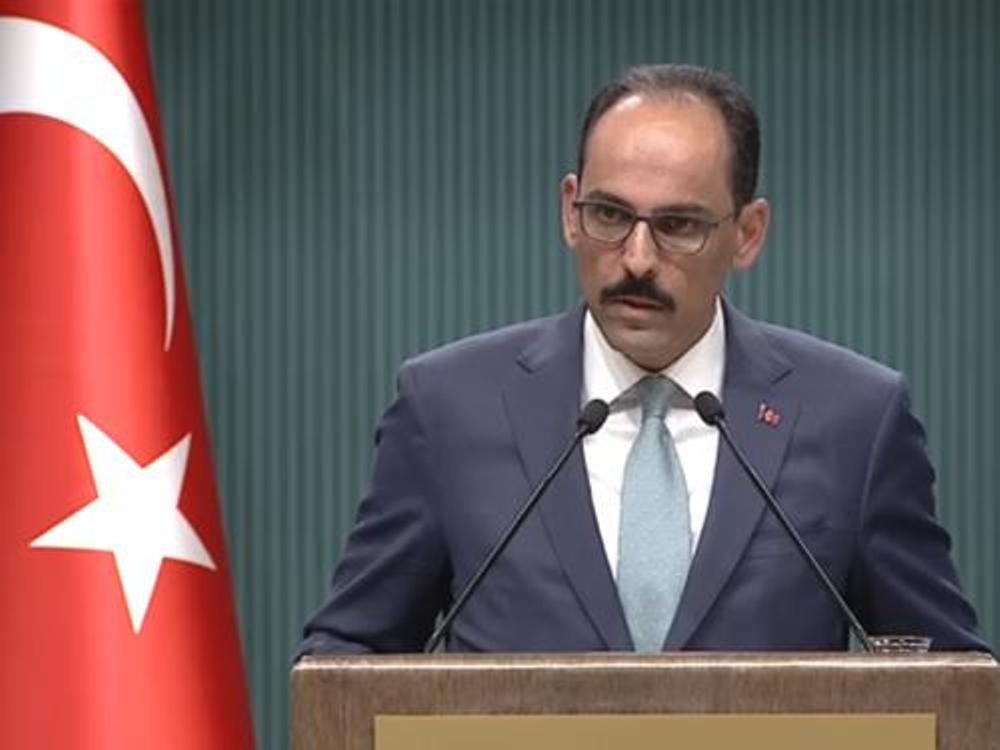 The Spokesperson of the Presidency of the Republic of Turkey İbrahim Kalın announced that President Erdogan received European Commission President Ursula von der Leyen and European Council President Michel in the Presidential Group. The meeting took place in a generally positive atmosphere, Kalın said.
In a written statement regarding the meeting of Turkish President Recep Tayyip Erdogan with Charles Michel and Ursula von der Leyen, the Spokesman of the Turkish Presidency Ibrahim Kalın said that "The meeting of our President Recep Tayyip Erdoğan with the President of the European Commission von der Leyen and the President of the European Council Michel was held in a generally positive atmosphere, and Turkey-EU relations were thoroughly assessed during the meeting."
He added: "Our President presented Turkey's perspective on the future of relations with the EU, stating that full membership is the ultimate goal of Turkey's EU process. The EU must take concrete steps to support a positive agenda, focusing on updating the Migration Pact and the Customs Union, on visa liberalization for Turkish citizens, people-to-people contacts and high-level political consultations. It was stated that the strengthening of political, economic and social relations between Turkey and the EU will contribute both to the stability of Turkey and the European countries, and to the achievement of world peace. Stressing that the refugee problem must be tackled with a sense of shared responsibility, the meeting reminded us of the instability created by a new wave of refugees in the region and the need to immediately update the migration agreement in response to the humanitarian crisis."
Ibrahim Kalın said, that during the meeting, the importance of cooperation in the fight against terrorism was stressed, adding that an effective and joint fight against all kinds of terrorist groups such as Daesh, the PKK/YPG and the FETÖ must be carried out in order to achieve lasting stability and security.
The Presidential Spokesman stressed that developments in vaccination procedures and possible areas of cooperation in the fight against the Covid-19 epidemic were also discussed during the meeting.
"It was stressed that it is in the common interest of Turkey and the EU countries to produce sustainable solutions to regional crises, while the issues of Syria, Iraq, Libya, Karabakh and the Eastern Mediterranean were also discussed. It was noted that the Mediterranean Conference proposed by our President will also play an important role in transforming the Mediterranean into a sea of ​​peace. It has become clear that everyone must respect the legal process regarding ongoing cases in Turkey. The meeting also stressed the importance of not allowing some Member States to take the EU-Turkey relations hostage. Regarding Turkey's withdrawal from the Istanbul Convention, which has been reported in various media, the President clarified the issue, stating that 'violence against women is a global problem and the fight against all forms of this violence will continue with determination.' It was stated that the legal mechanisms will be strengthened within the framework of the existing legislation and much better results will be achieved in the fight against gender-based violence." /ibna