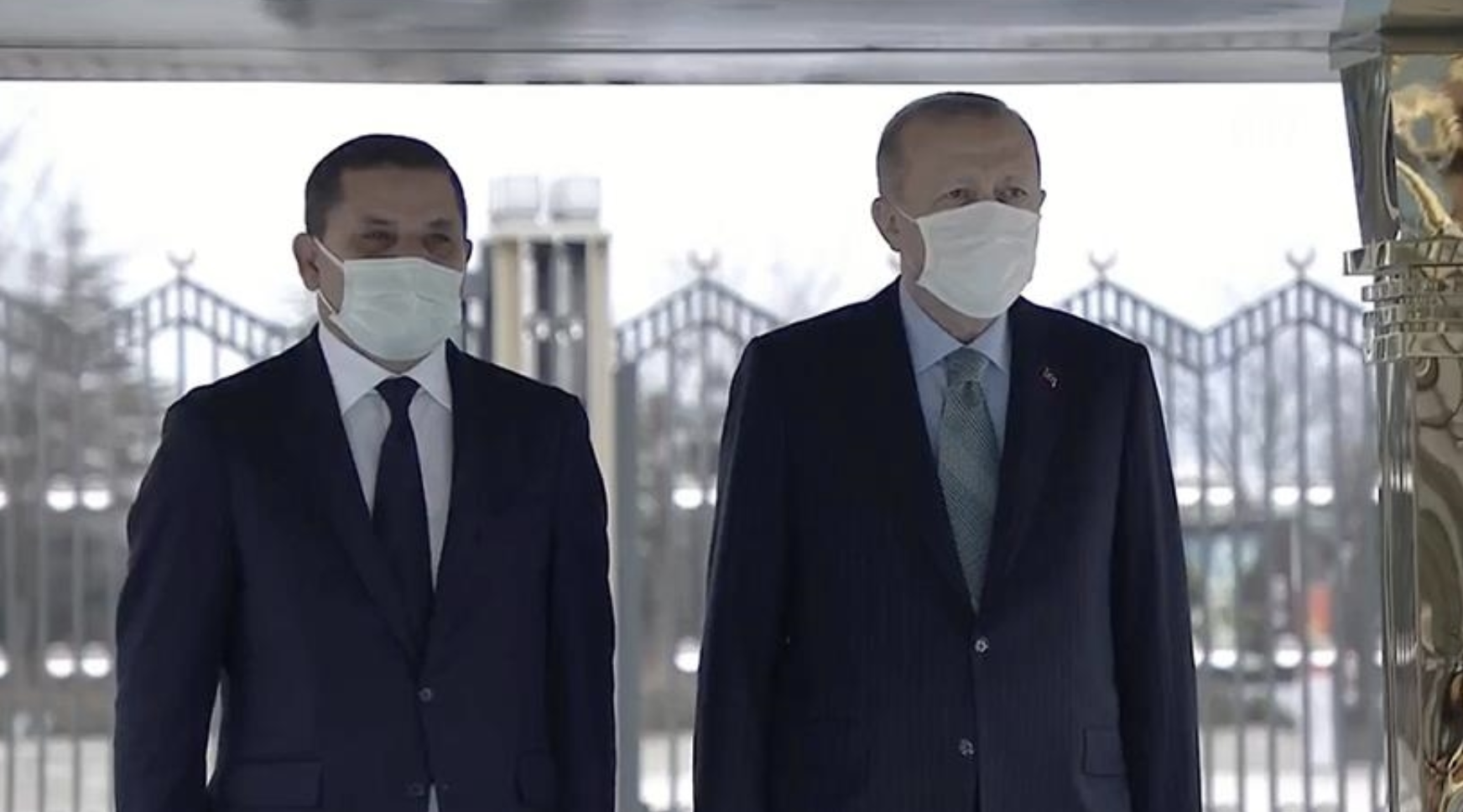 On Monday, Turkish President Recep Tayyip Erdogan welcomed the Prime Minister of the Government of National Unity of Libya with an official ceremony in the capital Ankara.
Erdogan, accompanied by senior foreign Turkish officials, welcomed Abdul Hamid Dbeibeh and his delegation to the Presidential Palace.
The leaders are scheduled to have a private meeting before attending the Turkey-Libya Strategic Cooperation Council meeting, after which they will hold a joint press conference.
The Libyan delegation under Dbeibeh, which is paying a two-day visit to Turkey, comprises five deputy prime ministers and 14 ministers, as well as Libyan Chief of General Staff Muhammad Ali Ahmad al-Haddad.
The Council meeting will be co-chaired by Erdogan and Dbeibeh and will be attended by ministers from both countries.
The discussion will focus on regional and international issues and will address all aspects of bilateral relations between Turkey and Libya.
Measures to further strengthen co-operation between the two countries will also be discussed.
The main topics are expected to include the energy and healthcare sectors, as well as Turkish companies returning to Libya to continue operations that were halted after the chaos that erupted following the ousting of leader Muammar Gaddafi in 2011.
In the context of the consultations, the counterpart Ministers will have bilateral contacts.
Turkish Energy and Natural Resources Minister Fatih Donmez tweeted that they had decided to cooperate with Libya, especially in oil and gas.
Libya Milli Birlik Hükümeti Petrol ve Gaz Bakanı Sayın Muhammed Ahmed Oun ile verimli bir toplantı gerçekleştirdik.

Petrol ve doğal gaz başta olmak üzere iş birliğimizi geliştirme kararı aldık. 🇹🇷🇱🇾 pic.twitter.com/VpBgNDazy2

— Fatih Dönmez (@fatih_donmez) April 12, 2021
"We had a productive meeting with the Minister of Oil and Gas of the Government of National Unity of Libya, Mr. Muhammed Ahmed Oun. We have decided to develop our cooperation, especially in oil and gas."
Turkish Interior Minister Suleyman Soylu met with his Libyan counterpart Halid et-Ticani Mazin.
Mazen visited Soylu in his office at the Interior Ministry, where he received congratulations from his Turkish counterpart on forming the new government, wishing him good luck. In addition, he said he was happy to see his Libyan brothers in Turkey, and expressed confidence that it would be a very constructive meeting with strong steps forward.
For his part, Libyan Interior Minister Halid et-Ticani Mazin said that the friendship between Turkey and Libya dates back many years.
Bakanımız Sn. @suleymansoylu,  Türkiye-Libya Yüksek Düzeyli Stratejik İşbirliği Konseyi'nin ilk toplantısı kapsamında ülkemizde bulunan Libya Milli Birlik Hükümeti İçişleri Bakanı Sn. Halid et-Ticani Mazin ile bir araya geldi pic.twitter.com/hQvNhWNi2o

— TC İçişleri Bakanlığı Maske😷 Mesafe↔️ Temizlik🧼 (@TC_icisleri) April 12, 2021
National Education Minister Ziya Selçuk met with Libyan Minister of Higher Education and Scientific Research Imran Muhammad Abdul Nabi Al-Qeeb.
In a Twitter post, Minister Selçuk noted, "We met with my counterpart, Minister of Higher Education and Scientific Research Imran Muhammad Abdul Nabi Al-Qeeb, who is in our country as part of the meetings of the Supreme Strategic Cooperation Council between Turkey and Libya. Our common wish is the intensification of our collaborations." /ibna