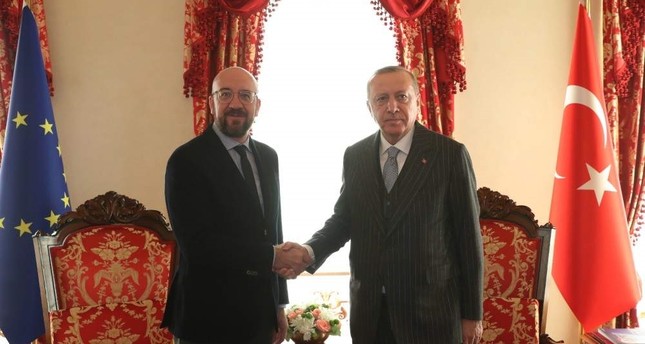 Turkish President Recep Tayyip Erdogan had a telephone conversation with European Council President Charles Michel, according to an official statement on Tuesday.
A statement from Turkey's Communications Directorate said Charles Michel called on Erdogan to brief him and exchange views on the recent EU summit.
During their conversation, Erdogan said that Turkey evaluates every positive step in Turkey-EU relations as a "new window of opportunity".
Stressing that some countries are constantly trying to provoke a crisis, while Turkey is trying to turn a new page with the EU, Erdogan said EU-Turkey relations must get rid of this vicious circle as soon as possible.
Turkey has reiterated its readiness for exploratory talks with Greece, the president said, adding that the Greek side has consistently avoided negotiations with excuses and has taken provocative measures in recent weeks.
Stressing that Turkey's policy on the Eastern Mediterranean is based on law and justice, he said that the Turkish side is always making the necessary efforts for a fair, permanent and sustainable solution in the region.
Turkey wants the EU to take a sensible and constructive stance towards Turkey, he added.
Turkish officials have repeatedly stressed that Ankara is in favor of resolving all outstanding issues in the region through international law, good neighborly relations, dialogue and negotiations./ibna