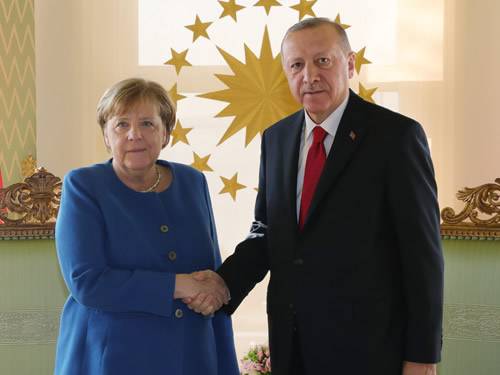 Turkish President Recep Tayyip Erdogan and German Chancellor Angela Merkel had a telephone conversation on Wednesday.
The two leaders reportedly discussed developments in Syria and Libya as well as tackling the coronavirus crisis. They also discussed bilateral relations, the economy and tourism.
The telephone communication took place in the midst of the crisis that has erupted between Greece and Turkey after a NAVTEX issued by the Turkish side for seismic surveys of Oruc Reis in an area south of Kastelorizo and southeast of Crete and, an area that the Greek side considers to be within the Greek continental shelf.
The Turkish Foreign Ministry issued a statement rejecting the Greek allegations.
According to the Turkish Foreign Ministry, "as part of our country's ongoing activities to find hydrocarbons in the Eastern Mediterranean, it was announced by NAVTEX (Notice to Sailors) published by our competent authorities on July 21, 2020, that our research vessel Oruç Reis will carry out a new seismic exploration activity in the Eastern Mediterranean.
"The sea area where our ship will explore it is within the continental shelf that our country has reported to the United Nations and the licensing areas given to TPAO by our government in 2012. In part of this area, the seismic research vessel Barbaros Hayrettin Pasha was active in recent years, according to the announcement.
"Nevertheless, Greece opposed this exploration activity and claimed that the exploration area is within its continental shelf. Greece bases this claim on the existence of islands, especially Meis (Kastelorizo), far from the mainland. "This maximalist continental claim of Greece is contrary to international law, jurisprudence and court decisions", the statement continued.
"It is not a logical and international position that an island with an area of ​​10 square kilometers, 2 kilometers from Anatolia and 580 kilometers from mainland Greece, creates an area of ​​40,000 square kilometers wide. For this reason, we reject these allegations of Greece", notes the announcement of the Turkish Foreign Ministry.
"Although Turkey has reiterated its call for dialogue at all levels with Greece, as has been expressed on several occasions to date, it will continue to defend its legal rights and interests under international law", the statement concluded./ibna