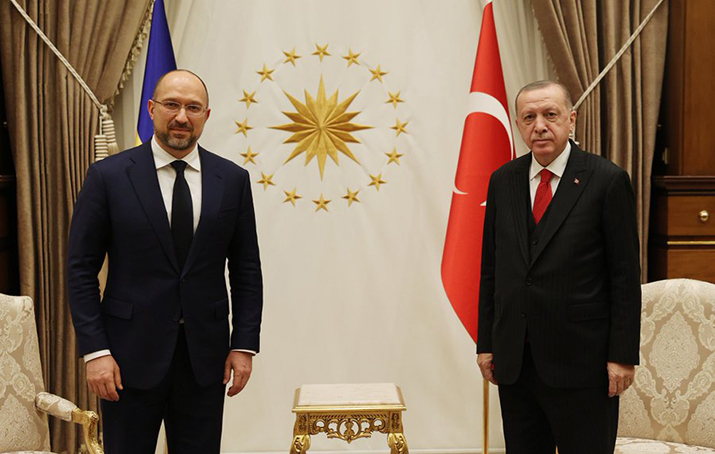 Prime Minister of Ukraine Denys Shmyhal was received by the President of the Republic of Turkey Recep Tayyip Erdogan in the capital of Ankara.
The meeting held at the Presidential Group lasted 50 minutes. The Ukrainian Prime Minister's visit comes a few weeks after the Ukrainian President's visit to Turkey in October.
In a Twitter post after the meeting, the Ukrainian Prime Minister noted he was happy to meet with Erdogan, stressing that Turkey is one of the key countries in ensuring stability and security in the Black Sea as it plays an important role on this issue.
According to Ukrainian sources, the two men discussed issues of trade, economic and energy cooperation, as well as a partnership in the field of transport and the military-industrial sector.
The Ukrainian Prime Minister underlined the importance of the agreements reached between the President of Ukraine and the President of Turkey for the intensification of the bilateral dialogue in strategic areas of cooperation.
"The Republic of Turkey constitutes one of Ukraine's main trading partners. At the same time, we have great potential and opportunities for expanding bilateral trade. We are talking not only about raw materials, but also about processed products and finished products," said Denys Shmyhal.
According to the Ukrainian Prime Minister, a critical issue on the Ukraine-Turkey bilateral relations agenda was the completion of negotiations on a free trade agreement.
"I believe that our countries have enough potential to increase total trade at least twice, up to $ 10 billion a year. Given the neighborhood factor and the volume of trade between our countries, Ukraine is interested in concluding an ambitious, comprehensive agreement to maximize its potential," he stated.
Speaking with Recep Tayyip Erdogan, Denys Shmyhal noted that one of the priorities of reforms in Ukraine is to attract investment in the public sector of the economy, especially on the basis of the public-private partnership (PPP).
"Turkey has a successful experience in implementing large-scale infrastructure projects based on the type of public-private partnership. We are really interested in this expertise. Therefore, we expect that the third meeting of the Ukrainian-Turkish Working Group on Public-Private Partnership will take place in the near future," he said.
Denys Shmyhal stressed that one of the effective mechanisms for the development of cooperation between Ukraine and Turkey in the field of energy laid in the convention of the Ukrainian-Turkish Energy Working Group.
"Such a format will allow us to discuss the full range of possible areas of cooperation in the energy sector and strengthen bilateral relations on the road to economic development in both countries," said Denys Shmyhal.
During the meeting, the Prime Minister of Ukraine and the President of Turkey also touched on cooperation in the military-industrial sector. In addition, the parties agreed that Ukraine and Turkey should continue to coordinate efforts to combat the COVID-19 pandemic and its economic impact.
The Ukrainian Prime Minister also thanked Recep Tayyip Erdogan and Turkey for their continued support for Ukraine's sovereignty and territorial integrity. /ibna