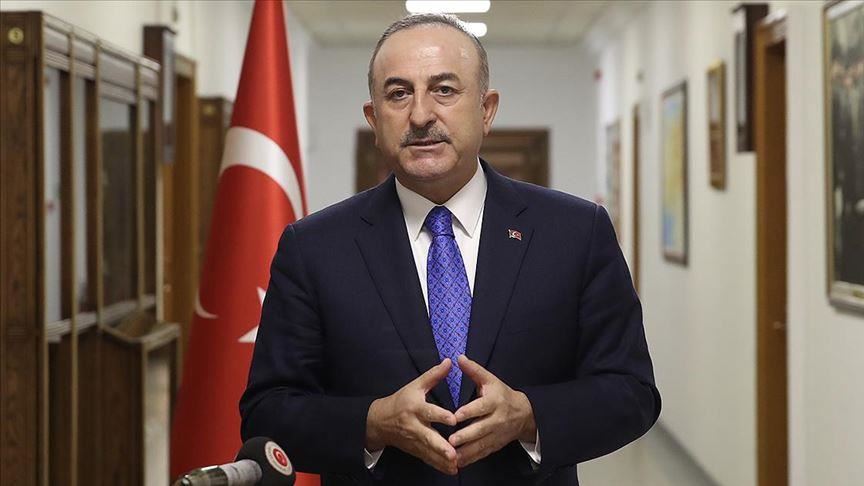 Cavusoglu: Our nation will decide on Hagia Sophia
The Turkish Foreign Minister said on Wednesday that Egypt's recent call for a ceasefire in Libya was "dead".
Speaking to Turkish media in Turkey, Foreign Minister Mevlut Cavusoglu questioned the "sincerity" and "persuasiveness" of the so-called Cairo Declaration, citing the recent attack on the UN-recognized Libyan government by Khalifa Haftar, who is backed by Egypt.
Cavusoglu questioned the motives of Haftar, who had previously "refused all efforts for a ceasefire", but suddenly proceeded to a joint statement with Egypt in favor of a truce after recent developments.
"In the midst of the recent victories of the [UN-recognized] National Accord government, they are calling for a ceasefire as Haftar begins to lose ground. This is neither convincing nor sincere. Attempts for a ceasefire by Cairo are still dead", he said.
Stressing that only a ceasefire agreed upon by both sides of the conflict could be permanent, Cavusoglu noted: "Haftar never wanted that. Neither the National Accord Government nor other countries were present in Cairo. A call for a ceasefire to save Haftar is not sincere or convincing for us".
Both NATO and the United States noted that Turkey's participation in Libya was "positive" and that Turkish President Recep Tayyip Erdogan had telephone conversations with NATO Secretary-General Jens Stoltenberg and US President Donald Trump on the issue.
Cavusoglu stressed that a truce must be signed in a context that allowed everyone to come together.
"If an agreement is reached on a platform where everyone meets under the umbrella of the United Nations, this ceasefire will be credible and permanent", Cavusoglu added.
Referring to previous ceasefire efforts by Turkey and Russia, Cavusoglu said he had spoken with his Russian counterpart Sergey Lavrov about Libya on Monday and that the two countries had agreed to hold political consultations on the issue.
"We made it clear to them that we did not approve of Cairo's statement and that we did not find it realistic or honest, and therefore we will not support it. We will have talks with the Russians on Libya in the coming days".
Cavusoglu ruled out any role for Haftar in Libya's future, claiming he had missed such an opportunity by violating previous agreements reached in the past.
Regarding the possible reopening of Hagia Sophia in Istanbul for Muslim worship, Cavusoglu rejected opposition from other countries, saying: "We could not be affected by foreign pressure".
"Our nation will decide on the issue of Hagia Sophia. An organization has applied to the Council of State [to reopen Hagia Sophia for worship]. The decision is expected to be issued on July 2", he said.
Commenting on the possible criticism from Greece, he said: "Greece is the last country to talk about such things".
"Turkey is a role model for the world in terms of freedom of religion. Different religions and sects have places of worship in Turkey. There are synagogues and churches. Armenians have Catholic and Orthodox, Protestant and Greek Orthodox churches […] No one should try to challenge freedom of religion in Turkey by using Hagia Sophia. Instead, they should take Turkey as an example on this issue". /ibna