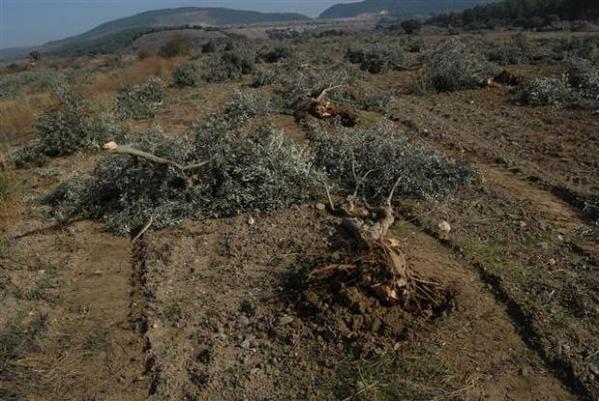 6000 olive trees had been uprooted
 The Turkish government feared for a new Gezi
By Manolis Kostidis – Ankara
"The victory of the Olive Tree" was named the decision of the Supreme Court of Turkey, which banned the construction of a thermal power station in olive groves of Soma in western Turkey, where a few days ago had been uprooted 6000 olives.
The public opinion in Turkey was upset on Saturday night, when the guards of the construction company Kolin invaded the grove and with the help of machines destroyed the olive trees and 6000 trees were ripped, turning the entire area into a desert.
At the same time there was heavy fighting between the villagers of the area, who were trying to protect their olive groves and the officers of the company as well as men of the gendarmerie, who were trying to impose order.
On Sunday night the court ruled in favor of "freezing" the project, but it was already late as bulldozers had torn down 6000 old olive trees, causing great ecological disaster.
On Monday night the Supreme Court with a new provisional decision termed illegal the ripping of the trees and "banned the construction of the power plant, since the site was and will be an olive grove".
The Turkish newspaper Hürriyet with a first page publication called the case the "justice of the olive tree" and states that "the reactions of the villagers and the sensitivity of judges brought the desired result as the court does not give the right of appeal".
The company Kolin had undertaken the construction of the station, in the form of self-financing, on behalf of the turkish state.
The Minister of Agriculture of Turkey Mehdi Eker said that the ministry imposed a fine on the company, in accordance with the laws to protect the natural environment.
Energy Minister Taner Yıldız said that one should not take the place of either the villagers or the company, but rather the right balance must be found and asked the villagers not to worry.
The case of the olive trees is important in Turkey, since in 2013, the Turkish government had tried to rip the trees in the Gezi park in Istanbul, aiming at the construction of a shopping center in Taksim Square. The plans were upset when thousands of Turks took to the streets resulting in hundreds of demonstrations across the country, in which five protesters were killed and thousands were injured by police violence. The project, however, the construction of the shopping center in the square, was never realised.