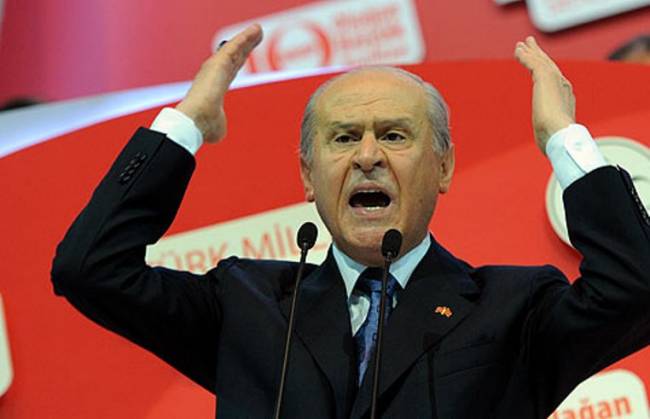 By Manolis Kostidis – Istanbul
Erdogan rallies supporters
The prospect of an early general election is being discussed in Turkey, despite the government ruling out the possibility entirely.
Nationalist Action Party president, Devlet Bahceli (photo), accused the government of causing riots by exercising excessive force. He urged Erdogan to call an early general election and said "the government can decide the date".
Scenarios flourished following Erdogan's extraordinary meeting with Parliament Chairman Cemil Cicek. The meeting took place at Erdogan's office in the Dolmabahce Palace, Istanbul and the agenda was undisclosed.
Earlier, a Justice & Development Party Executive Committee meeting was held. Erdogan and party members discussed developments and how to respond politically the demonstrations, for five hours.
Justice & Development Party vice president, Husein Celik, said "there is no thought of an early general election. The first elections held will be in March 2014", referring to local elections.
In August 2014 Turkey will elect a new President.
The Prime Minister, in any case, isn't showing any signs of backing down; quite the contrary. He decided to pull his party's members and supporters to the streets. Following a marathon meeting of the Executive Committee, it was decided that two large rallies were to be held in Istanbul and Ankara, in support of the Prime Minister and the ruling Justice & Development Party.
The first rally will take place in the Ankara city center, July 16th and the second in Istanbul the following day.
Last week, Erdogan stressed "we are struggling to keep 50% of our voters inside their homes. We advise them to stay indoors in order to avoid trouble".
As youths are still demonstrating their resistance in many Turkish cities, the govering party's decision to stage these rallies is considered risky.
It will surely rally party members but it could also open the door further to the division of Turkey.