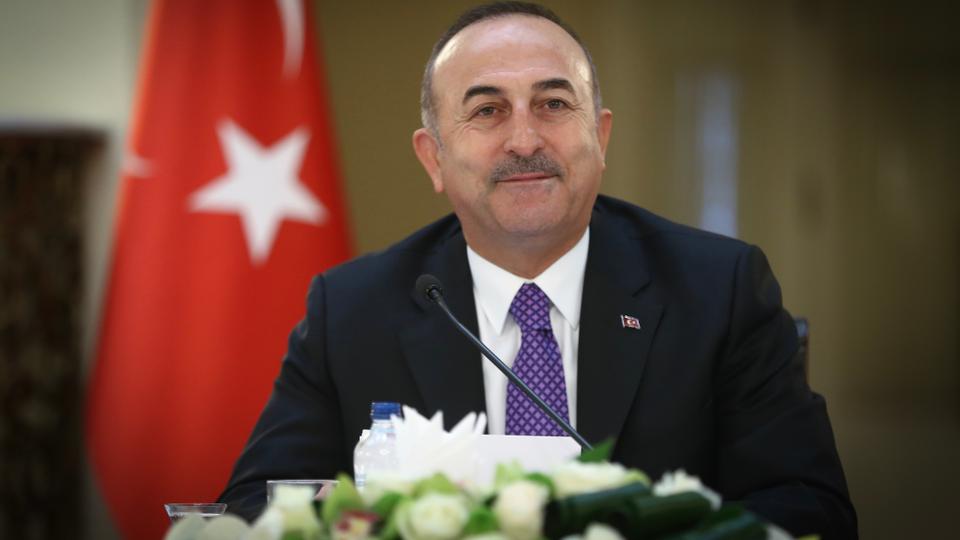 Turkish Foreign Minister Mevlüt Çavuşoğlu spoke to Anadolu Agency and the TRT national public broadcaster upon return from an official visit to Qatar. The Turkish Minister referred to the Euro-Turkish relations, the settlement of the Cyprus issue, the Greek-Turkish relations, but also the efforts to restore relations with Egypt, the UAE and Saudi Arabia.
Asked if "warm" contacts with France and Germany at leadership level would produce concrete results such as action plans, Çavuşoğlu said leadership talks were very useful in maintaining a positive climate.
He recalled that Recep Tayyip Erdoğan had regular contacts with German Chancellor Angela Merkel while, referring to a recent conversation between Erdoğan and French President Macron, he commented: "I would say this is the most positive contact he has ever had with Macron. In the end, we kicked off consultations. We still have some issues on which we do not agree, such as Syria and Libya. On the other hand, however, there have been discussions at advisory level." He added that President Erdoğan's direct contact with EU leaders is useful for promoting substantive actions on a number of issues.
He went on to recall that a decision had been taken with EU Council President Charles Michel to work on a roadmap for Euro-Turkish relations.
"We sent them our proposal, the draft of our road map. We are now awaiting their response," he underlined, explaining that this charter includes updating the known issues in line with current reality and emphasizing on the one hand that a positive climate is important for Euro-Turkish relations, keeping in mind on the other hand that Turkey has specific expectations from the EU such as a Customs Union update, visa liberalization, updating the agreement on immigration and the fight against terrorism.
He also added that he would have a phone conversation with French Foreign Minister Jean-Yves Le Drian next week at his request, adding: "Next week we will have a telephone conversation with NATO Secretary General Jens Stoltenberg. Afterwards, the NATO Summit will take place. Diplomacy has intensified despite the pandemic, it has accelerated a lot."
Asked about the EU's willingness to participate in the talks on the Cyprus issue, Çavuşoğlu stressed that "everyone can contribute to solving a problem and everyone can express their views. However, when it comes to negotiations, the EU is not and should not be part of it. Why? Because the Greek-Cypriot side is an EU member. It unfairly became a member, in fact in violation of international law. The EU has so far fully sided with the Greek-Cypriots and has ignored the rights of the Turkish and the Turkish-Cypriot side. I mean, those were symbolic negotiations, but they were ignored.
He noted that there was no doubt about the EU's involvement in the negotiations, adding that talks were already taking place within the UN and the EU had attended previous meetings as an observer, referring parallelly to the informal 5+1 meeting to be held with the participation of the three guarantor countries and the United Nations.
"Now, a 5+1 meeting is imminent. Its purpose is our proposal; to see whether there will be a basis for negotiations or not. Since the EU is not a party and due to this crisis of trust, the 'Turkish Republic of Northern Cyprus (TRNC)', in particular, does not want the EU to be part of it. The EU should not be offended by this, because it is not a party. I mean, there is no 'I am an observer of my views'. But if there is a basis for negotiations and if negotiations do kick off, the EU will be an observer again. We are not excluding the EU from that process."
Recalling, at the same time, that the search for a solution in Cyprus has futilely been the subject of negotiations for 53 years, he wondered "What will we negotiate for another 53 years? Why negotiate something that will never happen? Why waste our energy? Will it be the end of the world when there will be two states, or will the earth move? Let them explain this to us." In addition, he stressed that realistic solutions should be proposed in the process.
Asked if consultative talks between Turkey and Greece would eliminate the threat of EU sanctions against Turkey, Çavuşoğlu said: "First of all, let me say this. At the October Summit, they used the rhetoric of sanctions, we responded in the field. At the December Summit they used positive rhetoric, we responded positively. We are not a country that is afraid of sanctions. We are not even discussing sanctions."
"Turkey is not a country that would be happy with there being no sanctions," he said, adding that "they know very well what response they will get if they decide to impose sanctions. But we are not even discussing that. During talks, we do not even imply that 'there is a positive climate in relationships. You're not thinking about sanctions, are you?' Turkey is already over that phase. We are talking about how to improve our cooperation with concrete steps."
To the question 'Will the parties be setting conditions? Why aren't these awaited concrete talks starting already?' Çavuşoğlu also announced the start of diplomatic contacts between Turkey and Egypt: "There are no conditions, but after years of downtime, it is not so easy to act as if nothing has happened. It comes gradually, by arranging meetings, defining a roadmap and taking steps on these issues… There was a lack of trust during the time we were so unnecessarily disconnected. I mean, it's normal, it could happen on both sides. Therefore, there are discussions in the context of a specific strategy, in the context of a roadmap. We have contacts both at level of intelligence services and at diplomatic level. In the coming days, there will be talks both at the level of diplomats and at the level of intelligence services. "
Referring to the talks with the US government, Çavuşoğlu stressed that the Crete model was not discussed during the talks on the S-400.
Stressing that strained relations with Saudi Arabia and the United Arab Emirates have also begun to improve with positive messages since Khashoggi was assassinated, he underlined: "We are seeing more positive messages from Abu Dhabi. We are seeing a drop in negative campaigns against Turkey. We have no problem with them, but they had a negative attitude towards us. There is no reason not to improve our relations with Saudi Arabia. If they take a positive step, we will too. The same goes for the UAE. Our relationship was also good. Unfortunately, after the assassination of Khashoggi, they made it a bilateral issue, although it isn't one. It was the search for justice for an important person and we wanted those who committed the murder to be held accountable before the court and justice to be served." /ibna