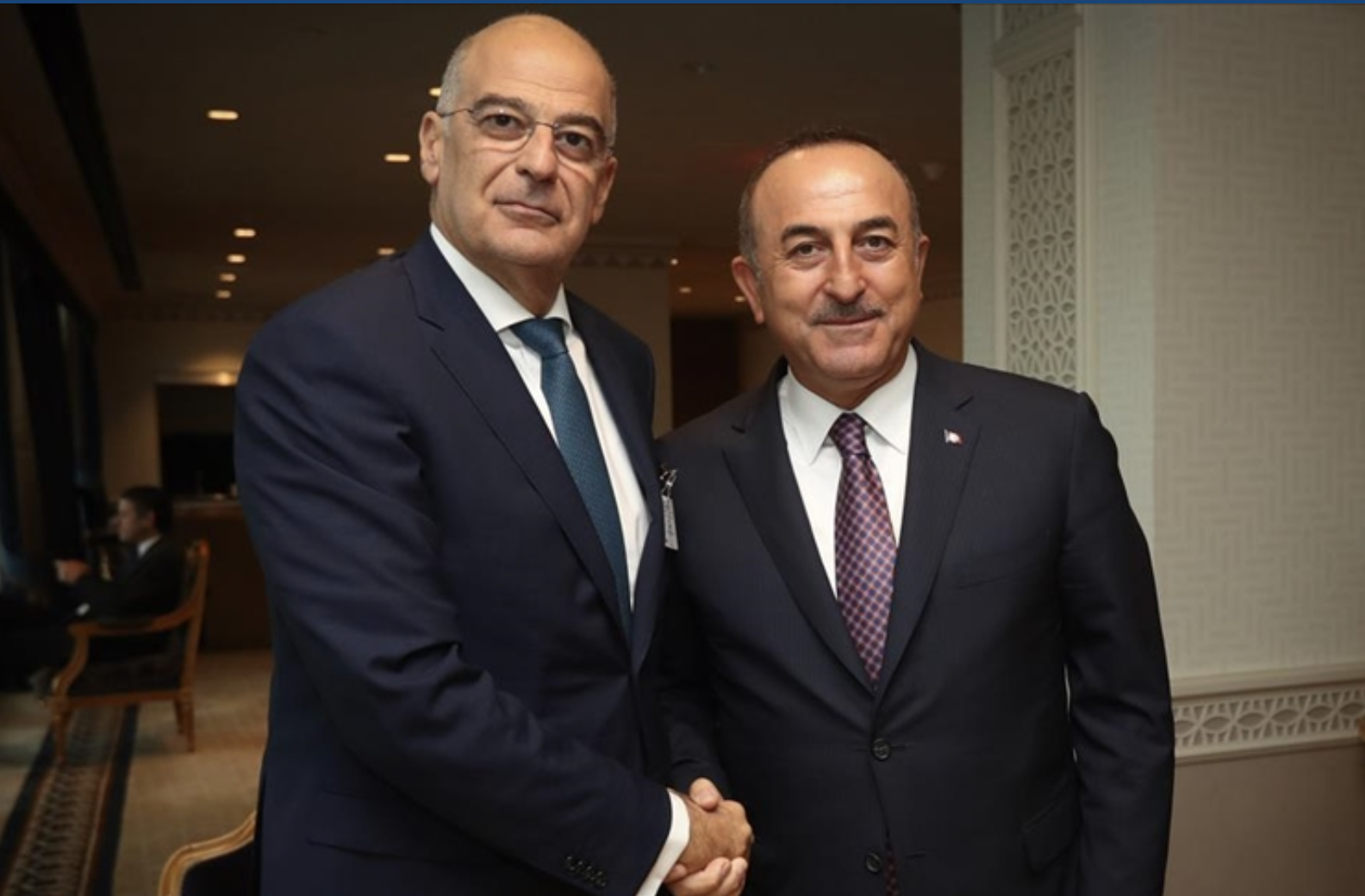 Turkish Foreign Minister Mevlut Cavusoglu will receive his Greek counterpart Nikos Dendias in Ankara today at a private meeting, followed by expanded talks between the two delegations and joint statements to the press.
The Turkish Foreign Minister will then host an "iftar" dinner in honor of the Foreign Minister, on the occasion of the start of Ramadan.
As for the agenda of the talks, this includes bilateral relations, both political and economic, as well as international developments with an emphasis on EU-Turkey relations, including the migration-refugee issue, but also regional developments with an emphasis on Libya and Syria.
Earlier, the Greek Minister will be received by Turkish President Recep Tayyip Erdogan.
The Greek delegation will comprise Deputy Minister for Economic Diplomacy and Openness Kostas Fragogiannis, as well as the official leadership of the Ministry.
Turkish Foreign Minister Mevlut Cavusoglu made an appearance on NTV this morning.
Asked about today's meeting and what the Turkish side expects regarding relations with Greece and the palpable tensions, Çavuşoğlu said:
"With Greece, the last years have been extremely tense. We have not been able to benefit from the mechanisms that have existed for five years. We did not manage to have many meetings, including our 'consultative talks', known as exploratory talks, as well as our 'High-Level Cooperation Council' meeting and political consultations."
He went on to add that "I have to be clear. We were unable to do this due to the negative approach of Greece. It is Greece's turn to host a 'High-Level Cooperation Council' meeting. I'm not saying this to blame the current government. The previous government of Tsipras never extended an invitation in the same way. The last time we did it was in Smyrna. Again, during the Tsipras governance, exploratory talks were unfortunately suspended. Then, after the steps in the Eastern Mediterranean which excluded Turkey, the countermeasures taken by Turkey made the situation a little more tense. The EU got involved. Other countries began to interfere. We always say that we are ready to sit down and discuss all our issues with Greece. Of course, we may not be able to tackle every issue in one meeting or in several meetings. But at least we can create a positive climate and make approaches to how we can solve existing problems and differences. With this understanding, our dialogue with Greece has recently resumed. As you know, 'consultative talks' took place in both Turkey and Athens. We also held political consultations in Athens between the two Ministries of Foreign Affairs."
"Now, Dendias is coming to Turkey. This visit was to take place yesterday, but I asked him to come today because of the NATO meetings and he agreed and I thank him for that. A meeting between the framework countries for Afghanistan took place yesterday before the NATO Council meeting and the Foreign Affairs and Defense Ministers' meeting. Turkey, the United States, Germany, Italy and the United Kingdom were invited to this meeting and we had to travel to Brussels because this meeting took place in person," the Turkish minister continued.
"Today, of course, we are pleased to welcome Mr. Dendias to Ankara and all the issues I mentioned, the disagreements, the issues in the Eastern Mediterranean, the Aegean, the Cyprus issue… we intend to meet in a friendly environment. And it is important to continue negotiations that have resumed on these issues. High-level visits and dialogue between us are also very important. We do not need the European Union or a third country to talk about these issues and find solutions. We can only solve them by talking to each other. We, especially our President Recep Tayyip Erdoğan, have repeatedly stated that we are always in favor of sharing, both in the Eastern Mediterranean and in other matters, and we are in favor of finding common ground. Our call for an Eastern Mediterranean Conference, our proposal and the proposal of our President were made in this direction. And it is extremely important that we continue this dialogue with Greece as neighbors on a regular basis in the coming period. There are issues on which we do not agree, there are many issues in the Aegean and we must discuss them openly," Çavuşoğlu said.
Asked by the talk show host about whether there is a risk that the maritime jurisdiction agreement with Libya will be annulled or affected after the high-level talks in Turkey with the Libyan leadership, but also about the mobility recorded between Greece and Libya with the visit of Mitsotakis and the meeting with the Libyan head of the Presidential Council in Athens, Çavuşoğlu stressed that "he can hold meetings. Each country, two countries, three countries can negotiate multilaterally. This is the essence of our call for an Eastern Mediterranean Conference. On the other hand, during his visit to Libya and his last visit to Istanbul, Menfi stressed that they had complied with previous agreements with Turkey and that those were valid. There is also a joint statement. It is in Libya's interest and in Turkey's interest. Greece has also signed an agreement with Egypt. This agreement may also be amended in the future. Because when Egypt signs an agreement with us, it will gain more territory. Of course, there is also the restriction of maritime jurisdiction not only in the Eastern Mediterranean, but also between Malta and Libya in other parts of the Mediterranean. The other day we also discussed at length what we can do in this disputed area. These are controversial issues. Of course, Libya can discuss these issues with anyone, but we also have an agreement that we have signed between us, which is registered in the UN on both sides. This is an agreement that has been negotiated and has been signed with a mutually beneficial approach," adding that he does not see any danger with this agreement.
Asked about Greek-American co-operation and how US military assistance to Greece, joint exercises and the deployment of US bases in its territory are interpreted, the Turkish Foreign Minister underlined that "in Turkey, these exercises can be interpreted a little differently. Everyone around the world, every country can carry out exercises with other countries. The United States is also conducting exercises with Turkey and Greece. Exercises do not mean anything special. Of course, the purpose of an announced exercise against another country or group as a bloc is different. But there can be many multilateral exercises at tripartite level, at bilateral level. There are exercises in the Black Sea. A few months ago, Russia and Egypt carried out a joint exercise in the Black Sea. It does not need to be a special concern. It is a kind of symbolic cooperation between countries.
But the equipment is a different story. To date, the United States has pursued a balanced policy both in Cyprus and in Turkey's relations with Greece. In our discussions with Mr. Blinken, both on the phone and in Brussels in the context of the NATO Foreign Ministers' meeting, we also told him that we expect the United States to maintain this balanced position and policy. Sometimes there are different statements due to the Greek lobby. In practice, the United States must maintain this policy of neutrality. /ibna