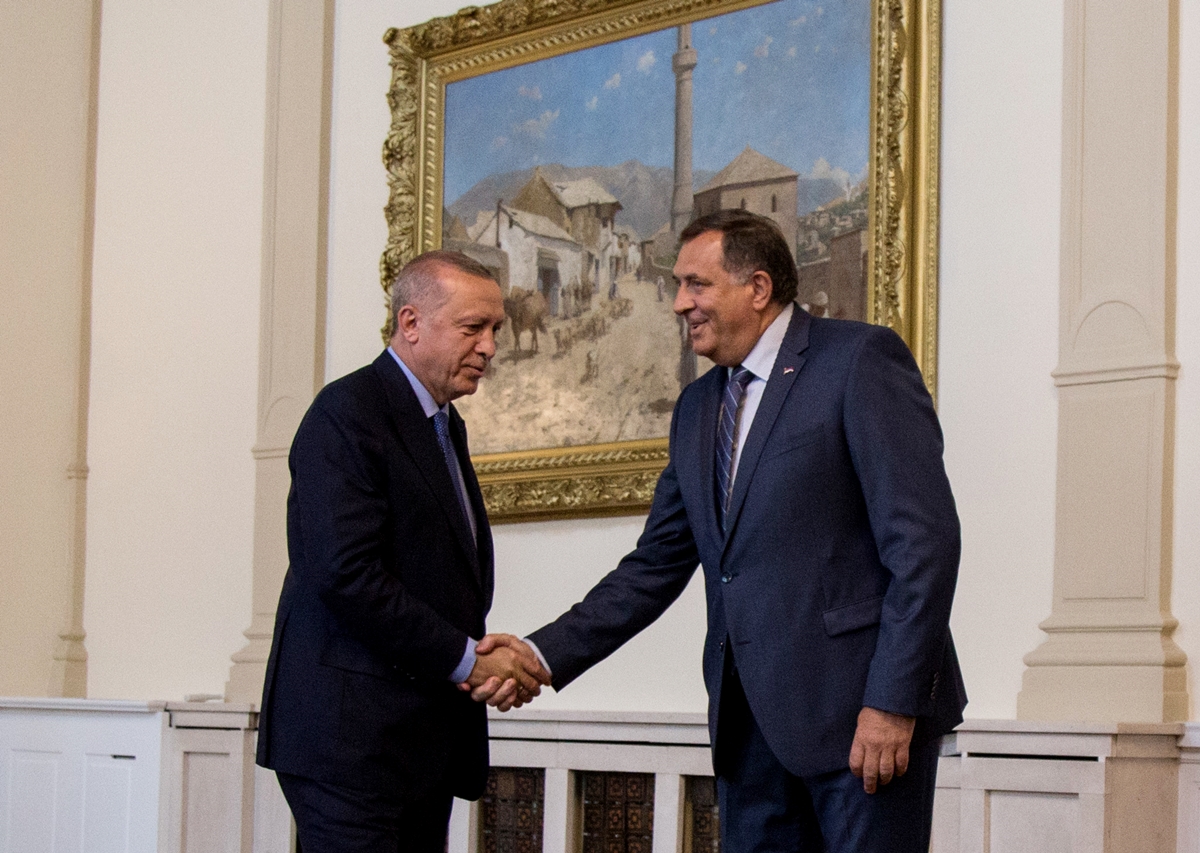 Bosnia and Herzegovina Presidency Chairman, Milorad Dodik, confirmed that one of the topics on the recent meeting with Turkish President, Recep Tayyip Erdogan, was the issue of the Turkish citizens who currently reside in BiH and whom authorities in Turkey suspect of collaborating with terrorist organisations.
"Turkey has information regarding the attempted coup. It was tracked down that there are some people and institutions in Bosnia and Herzegovina, mostly in the Federation (FBiH) and I think it is a matter for the Federation's institutions and I believe Erdogan completely understands that," said Dodik, who met with Turkish President during the SEECP meeting earlier this week
BiH media published recently that the Ministry of Security received a list with the names of the supporters of Fethullah Gulen – a Turkish Islamic scholar, the leader of so-called Gulen movement, an international organisation presently outlawed in Turkey as an alleged terrorist group.
According to these reports, Erdogan called on BiH authorities to extradite all Turkish citizens whom authorities in Turkey suspect of collaborating with the Gulen movement. Allegedly, Ankara delivered a list of eight Turkish citizens who now live in BiH and whose passports have been annulled.
"Turkey has certain demands and this matter was not raised for the first time, this was discussed when we were in Ankara too," added Dodik.
Dragan Mektić, the BiH security minister in a technical mandate, confirmed on Wednesday that the Turkish authorities informed BiH that the travel documents issued to a number of their citizens, who are in BiH and have a regulated stay, were cancelled.
"We are informed that for a number of Turkish citizens who are in BiH and have a regulated stay, Turkish authorities have cancelled travel documents. They were not included in the Interpol database when it comes to search for travel documents. This brought us into a specific, unusual situation. Now, the ministry and the relevant agencies should initiate a kind of administrative procedure regarding this and decide on the status of these citizens," Mektić told Sarajevo based N1 TV.
He also said that, to his knowledge, they have applied for asylum in BiH.
"After this request all actions will be suspended, it will be decided exclusively on the asylum application. After the decision on the asylum application, the administrative procedure regarding their status will continue. I cannot prejudge the solution", Mektić said./ibna