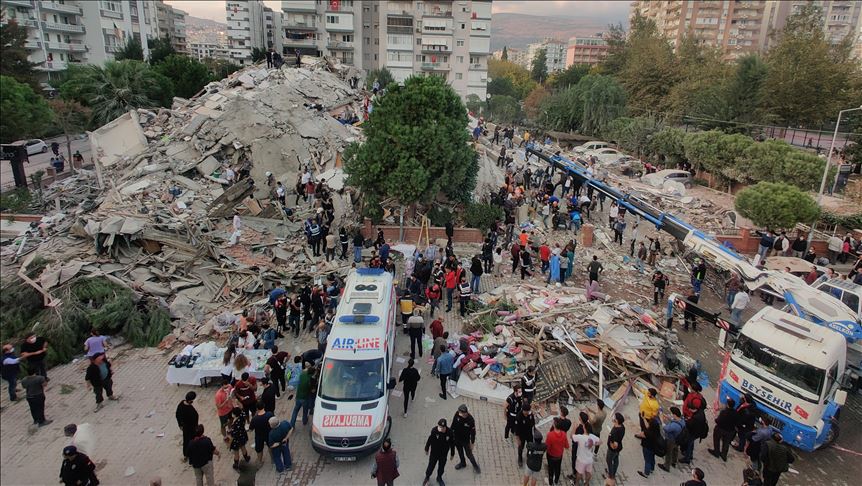 According to the initial information released by the Directorate of Disaster Management and Emergency Situations (AFAD), 12 people have died and more than 400 have been injured from the earthquake. So far, more than 70 people have been rescued from the rubble of the collapsed buildings.
At 14.51 (local time), an earthquake magnitude-6.7 on the Richter scale struck 17 kilometers off the coast of Seferihisar in Izmir on the Aegean coast. Focal depth was measured at 16.54 km.
The quake destroyed some buildings in the Bornova and Bayrakli provinces. Some boulevards and streets were flooded in the Seferhisar district, as sea levels rose after the quake.
President Recep Tayyip Erdogan wished speedy recovery to the people affected by the earthquake in Izmir. "We are on the side of our earthquake-stricken citizens with all the capabilities of our state. We have taken action with all our relevant institutions and our ministers".
Via a post on his social media account, Fuat Oktay stated, "I wish all the best to our citizens hit by the earthquake that struck Izmir and was felt in the surrounding prefectures. Our state is on the side of our citizens who were affected by the earthquake with all its institutions and bodies".
In a post on his Twitter account, Communications President Fahrettin Altun sent out his wishes to all citizens affected by the quake, noting, "The work of assessing the damage and removing the rubble of the collapsed buildings has begun swiftly. Our state is on the side of our sacred nation with all its institutions and bodies".
Interior Minister Suleyman Soylu stated: "At the moment, we have been notified that six apartment buildings in Bornova and Bayrakli in Izmir have collapsed. There are no reports of casualties from Usak, Denizli, Manisa, Balikesir, Aydin and Mugla except for some cracks in the buildings".
The Mayor of the Metropolitan Municipality of Izmir Tunç Soyer pointed out that there were reports that about 20 apartment buildings had been destroyed.
Greek Prime Minister Kyriakos Mitsotakis contacted Turkish President Recep Tayyip Erdogan after the strong 6.7-magnitude earthquake that shook Samos and caused extensive damage in Izmir.
"I recently called President Erdogan to express my condolences for the tragic loss of citizens as a result of the earthquake that struck both countries. Whatever our differences, there are moments when our citizens must stand by each other", Kyriakos Mitsotakis posted on Twitter.
Greek Foreign Minister Nikos Dendias contacted his Turkish counterpart Mevlut Cavusoglu following the earthquake.
According to the Foreign Ministry, during the communication of the two Foreign Ministers, the Greek official expressed the readiness of the Greek authorities to send aid for the release of trapped people. /ibna