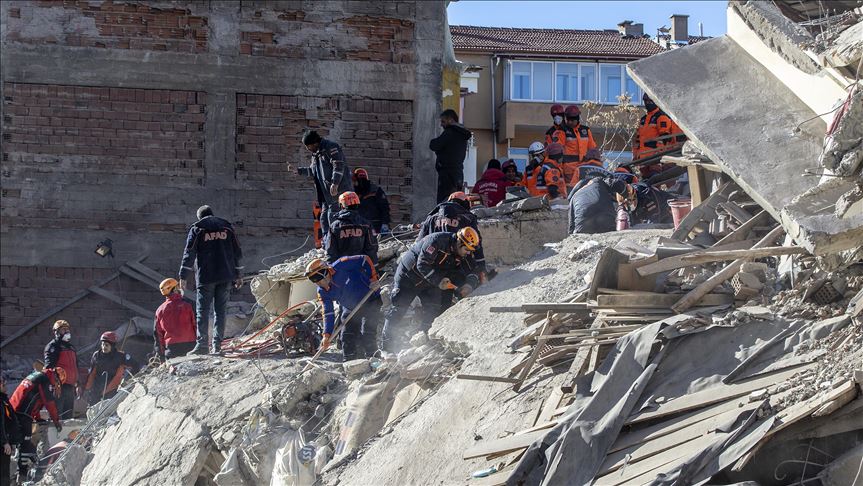 The devastating 6.8-magnitude Richter earthquake that struck eastern Turkey and the Elazig province on Friday has left 31 people dead and more than 1,500 injured, while more than 45 people have been pulled from rubble.
So far 1,547 civilians have been reported injured, and rescue crews are continuing efforts to release and rescue locals trapped in rubble, according to the Disaster Management and Emergency Authority (AFAD).
More than 3,400 people are assisting in the investigations with hundreds of vehicles and 17 rescue dogs.
The teams inspecting the disaster caused by the earthquake say 76 buildings have been destroyed, 42 have been seriously damaged while 425 bear smaller damages.
The 6.8-magnitude Richter earthquake struck Turkey's Elazig province late Friday, January 24th. Neighboring countries, including Syria and Georgia, also felt the strong vibration.
Over 530 aftershocks followed the main earthquake, with nine of them of a magnitude higher than 4.0 on the Richter scale.
On Saturday, Turkish President Recep Tayyip Erdogan visited the area and attended the funeral of two victims.
"We have been hit by many earthquakes, but the nation has risen above them with patience", Erdogan said, urging citizens to exercise strength in their weakest hours.
Messages of support and condolences have been sent from all over the world, including the US, Russia, Germany, France, Greece, Cyprus, Malaysia and Pakistan. /ibna