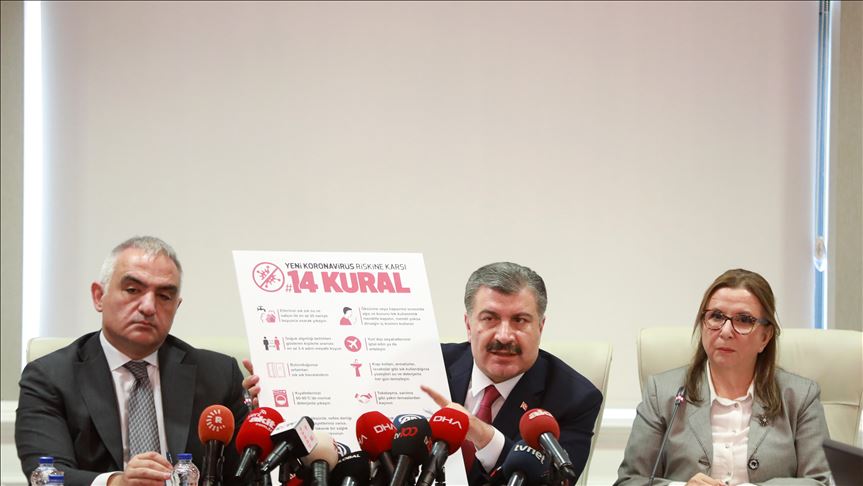 Three new coronavirus cases were confirmed in Turkey on Friday, raising the total number to five.
"After the first two cases, we have confirmed three new cases involving people that are family members of and came in contact with the zero patients. All five cases are directly related", Turkish Health Minister Fahrettin Koca said at a news conference from Ankara. He added that 2 of the patients had difficulty breathing.
The Turkish government has banned flights to 14 countries as part of a measure package to eradicate the coronavirus epidemic. Those Turkish citizens returning from trips abroad will be obliged to be placed in self-isolation for 14 days, starting Monday.
In addition, women who are pregnant or who have just given birth, people with disabilities and those over 60, with the exception of executives, will be eligible for a 12-day self-isolation leave starting Monday, the Health Minister added.
Visitors to hospitals will only be allowed after working hours, while only limited visits will be permitted, Koca said.
Transport and Infrastructure Minister Cahit Turhan said in a press conference that Turkey has added nine European countries to those for which flights will be suspended from Saturday 14 March at 08:00 (local time) until 17 April 2020.
Germany, France, Spain, Norway, Denmark, Belgium, Austria, Sweden and the Netherlands have joined the group of China, Iran, Iraq, Italy and South Korea, for which flight suspensions were announced earlier.
The Minister of Transport and Infrastructure noted that the ministry was working to disinfect public transport vehicles and prevent the spread of COVID-19./ibna