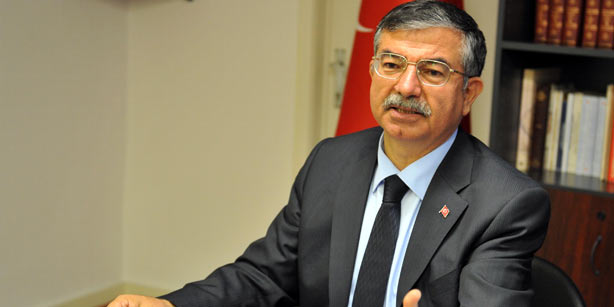 Ankara, March 30, 2015/ Independent Balkan News Agency
"They are turkish soil", claims Turkey's Defence Minister
Strong response from the Greek Foreign Ministry
By Manolis Kostidis
Turkish Defence Minister Ismet Yilmaz (photo), with a statement in the Turkish Parliament, challenged the sovereignty of Greece in 16 Greek islands in the Aegean and Eastern Mediterranean!
Immediate was the response of the Greek Foreign Ministry, with a statements of its spokesman Konstantinos Koutras saying that "There are no disputes and no doubt point exists on the status of any island or islet in the Aegean and Eastern Mediterranean. Besides, international legitimacy is one of the foundations of European civilization and cannot be altered neither with intentions of violating the international law nor by unilateral declarations or actions".
On Friday night there was a discussion in the Turkish parliament, with opposition MPs asking questions about the far-right turkish newspaper reports, according to which Greece had "raised the greek flag on islands which do not belong to it"!
Turkish Defence Minister: "These islands are turkish territory and that's how they will remain".
Disputing Greek sovereignty over the islands, Yilmaz claimed that "Turkey continues to enjoy its territorial sovereignty over a series of islands and islets which sovereignty has not been finalised by Greece, which has only de facto and temporary domination rule on the islands called EGAYDAAK and its administration there, does not negate the fact that these islands are the territory of the Republic of Turkey … There are practical applications of Greece in the islands since the time of the Ottoman Empire, but legally this does not mean they belong in this country", he said.
The statement of Yilmaz that raised the tension was the one he addressed to MPs of the opposition saying that "you accuse us of giving the islands to the Greeks. Essentially you give an advantage to Greece. If you were a government, Greece would have use your words. I expected you to say that 'this land is Turkish'. And that those parts will remain Turkish territory. "
Among the 16 islands for which the opposition MPs submitted an interpellation and challenge their sovereignty status are, Fourni, Arki, Agathonisi, Pharmakonisi, Kalolimnos, Pserimos, and more.
Many times in the past fanatic circles of Turkey raised the issue, but it is the first time that Ankara not only challenges the dominance of Greek islands with the theory of "gray zones", but formally asserts that these islands are "turkish territory".