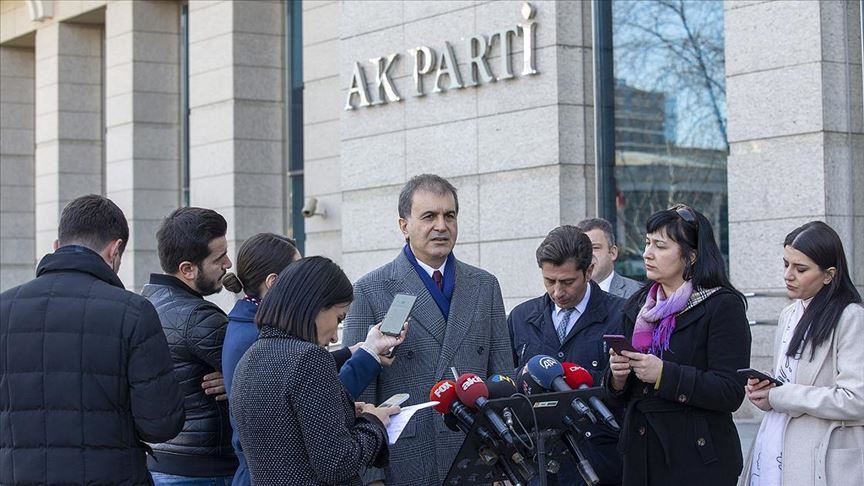 Turkey has proceeded with the necessary military preparations in northwestern Syria and has stressed to its Russian counterparts that it is determined to push Bashar Al-Assad's regime to the frontier, said a ruling Justice and Development Party (AKP) spokesman on Tuesday.
Omer Celik noted that Turkey had completed the necessary military preparations in Syria and would be taking the necessary measures if the Syrian regime did not withdraw to the previous limits set by the de-escalation agreement.
Celik emphasized that Russia, an ally of the Syrian regime, was "clearly" aware of Turkey's stance in the region.
With over 148,000 people fleeing Idlib in the last six days, the number of displaced from Idlib and neighboring areas since January 2019 has reached 2 million, most of whom have fled to areas near neighboring Turkey, which already hosts more than 3.6 million Syrian refugees.
Tens of thousands of people, including women and children, are in need of humanitarian aid, as the camps they are fleeing to have major shortages in their facilities, since they find it difficult to meet their food and healthcare needs.
Assad forces backed by their allies in Iran and Russia are trying to take control of the outskirts of Aleppo and parts of neighboring Idlib province, a stronghold of opposition forces in the country devastated by the civil war.
In addition to the refugee crisis, their advance has also affected cooperation between Moscow and Ankara, which had dispatched its troops to Idlib as part of the 2017 Astana and Sochi 2018 agreements that sought to achieve a de-escalation.
The regime's forces, however, its allies and armed militias continue to violate the ceasefire, according to the Turkish side. So far this month, bombardments instigated by Assad regime troops have killed 12 Turkish soldiers.
While Ankara and Moscow continue their negotiations on Idlib, President Recep Tayyip Erdogan said last week that Turkish troops would withdraw Syrian forces if they did not withdraw from the northwest.
Responding to a question about the recent coup d'état in the country, Mr. Celik commented: "The discussion around the coup has no place in Turkey's agenda. All of our institutions that adhere to democracy remain alert". /ibna