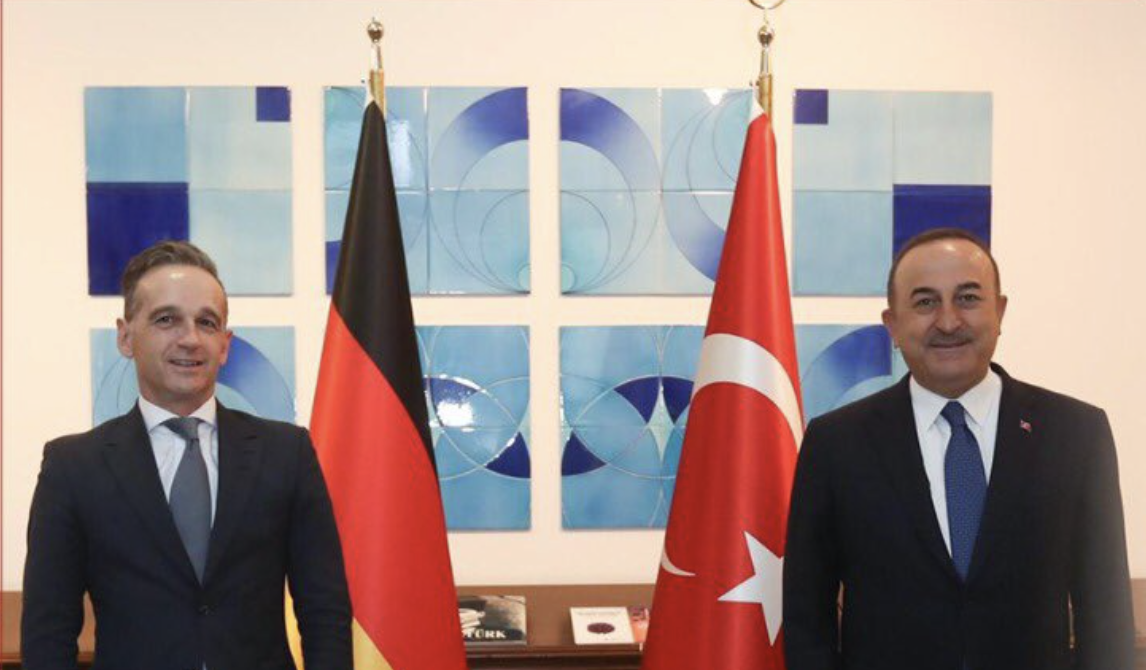 Amid a renewed commitment by Turkey and Germany to improve bilateral ties, during joint statements with his German counterpart Heiko Maas who visited Ankara, the Turkish Foreign Minister said on Monday that Turkish-EU relations are now on a more positive course.
Last year, the Turkish-German trade volume reached $ 38 billion despite the challenges posed by the COVID-19 pandemic, he added.
"If I were to say that new chapters in [Turkish-EU] negotiations could open immediately, that would be a lie; let us be realistic," he told reporters.
"Not because we do not want it, but because the EU does not want it; because it is facing problems with enlargement policies," Cavusoglu said, adding that "however, the visa liberalization promised by the EU to Turkey in 2016 could be implemented."
"Talks between Greece and Turkey will begin on January 25th owing to Germany's support," he said, reiterating that Turkey is ready to meet with Greece to discuss issues between the two countries.
Regarding last November's ceasefire in Nagorno-Karabakh, he said there was now a significant opportunity for a lasting solution in the region after nearly 30 years of political stalemate and 44 days of armed conflict.
"If there was a permanent ceasefire, Turkey and Azerbaijan could take steps to normalize relations with Armenia, if they want to," he added.
During the press conference, Cavusoglu said he would meet with EU Foreign Policy Chief Josep Borrell to update the 2016 migration agreement and hold the conference on the Eastern Mediterranean proposed by Turkey.
Cavusoglu added that during the meeting the two diplomats also discussed the latest developments in Syria, as well as in Libya.
For his part, Maas stressed that he hopes for a deepening of bilateral relations between Turkey and the EU.
Maas stated that, last year, difficult discussions on issues such as the Eastern Mediterranean led to unfortunate incidents, including the direct confrontation of some allies' warships, adding that "we no longer want to see any more of these incidents."
He said he was very pleased with Turkey's intention to commence exploratory meetings with Greece, adding that many European governments also welcome the move towards a diplomatic solution for stability in the region.
"We would like to make an effort to strengthen our bilateral relations and ties between Turkey and the EU, towards a future development path with permanently constructive relations," Maas said.
He added that Europe may not have properly appreciated Turkey, which hosts millions of Syrian refugees, albeit successfully.
After a year of ups and downs in Turkish-EU relations, the Turkish leadership announced its hopes for progress this year and its expectations that the Union will take clear steps to that end.
Maas also called on Russia to immediately "release" Russian opposition politician Alexey Navalny, who was arrested late Sunday after returning to the country.
Asked about Turkish-born Arsenal player Mesut Ozil who recently moved to Istanbul for the football club of Fenerbache, Maas said Ozil was a "great success" for the German national team and "I hope he will be successful in Turkey as well." /ibna