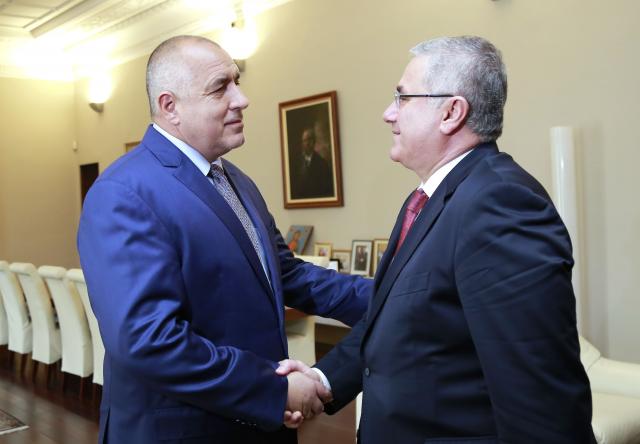 Sofia, April 12, 2016/Independent Balkan News Agency
By Clive Leviev-Sawyer of The Sofia Globe
The migration crisis and the fight against terrorism and organised crime have topped the agenda of talks in Sofia between visiting Turkish chief prosecutor Mehmet Akarca and senior government leaders.
Akarca is on a two-day visit on April 12 and 13 at the invitation of his Bulgarian counterpart, Sotir Tsatsarov.
On April 12, he met Prime Minister Boiko Borissov, and then held a meeting with Interior Minister and Deputy Prime Minister Roumyana Buchvarova, Prosecutor-General Tsatsarov, Deputy Interior Minister Philip Gounev and Interior Ministry chief secretary Georgi Kostov.
Speaking after the meeting, Buchvarova said that smuggling of migrants was a "well-organised provocation against the rule of law of our country, so we need more active cooperation and exchange of information for the effective sanctioning of organizers of trafficking networks".
According to an Interior Ministry statement, both sides praised the bilateral co-operation between Bulgaria and Turkey regarding of migration.
Buchvarova and Akarca emphasised the importance of rapid and regular exchange of operational information between the law enforcement authorities of the two countries.
"We need cooperation on exchanges throughout the chain of trafficking networks," Buchvarova said, adding that this was crucial for regulating both the migratory flows and in the fight against smuggling and in countering terrorism.
Buchvarova pointed to the readmission protocol that is to be signed between Bulgaria and Turkey as a further important step for the effective regulation of migration processes, the Interior Ministry statement said.
They also discussed the tripartite contact center for police and customs cooperation between Bulgaria, Turkey and Greece, as an important form of interaction between departments of the three countries.
At their talks, Borissov and Akarca agreed that joint efforts between countries are the only effective means of countering terrorist threats, a government statement said.
Borissov said that Bulgaria has a firm and consistent policy on migration issues and was making tremendous efforts to combat refugee flows and human trafficking.