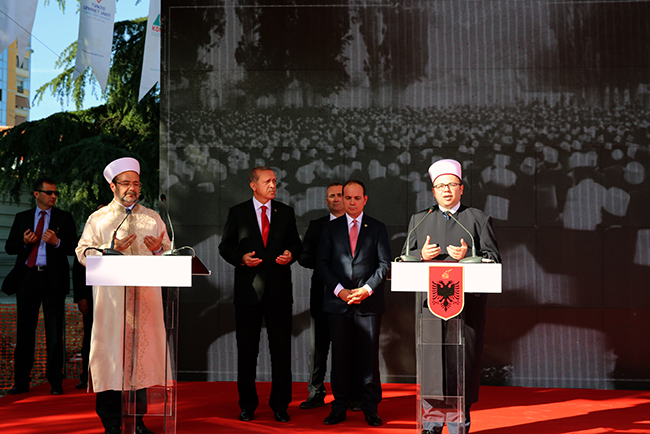 Tirana, 15 May 2015/Independent Balkan News Agency
Albanian Muslim Community has officially laid the foundations for the construction of the Mosque of "Namazgja" in Tirana, in the presence of the President of Albania, Bujar Nishani, President of Turkey,Recep Tayyp Erdogan and other personalities from Albania and Turkey.
This complex will be the biggest Islamic center in the Balkan. It will include a mosque, a conference room, an exhibition room, the first Islamic museum in the Balkan, the library, office, parking spaces and other public facilities.
The "Namazgja" complex will have a general capacity of 20 thousand square meters, while the mosque has enough room for 5 thousand people to pray at a time.
The construction of this mosque will put an end to the lack of a religious facility for the biggest religious community in Albania, the Muslim community, which makes up for 70% of the population.
Up until now, believers have been praying outside the doors of the mosques, due to their small spaces. Meanwhile, during religious holidays, believers pray in the main square of Tirana.
The ceremony of the laying of the foundation of the Great Mosque of Tirana saw the participation of a large number of citizens from the capital and other areas of the country. Participants had also arrived from Kosovo and FYROM.
The Turkish government funded the construction of this mosque and the complex with an amount of 30 million Euros. President of Turkey, Erdogan, confirmed this support: "This mosque will be built with the contribution and assistance of the Turkish people. The proximity of this mosque with the church and the presence of the museum of cohabitation, which will be built besides this mosque, shows the diversity and harmony that exists in Albania", Erdogan said.
The Turkish president also visited the mosque of Preza where he held a speech. During his speech there, Erdogan declared that Turkey sees Albanians as "an integral part". /ibna/